Anyone is welcome to view the Fairey Atalanta Forum and Boat Blogs but you may not contribute without creating a website account.
Registering for an account
is simple, free and enables you take a full part in our discussions. Better still why not
become a member of the AOA
and help keep the boats and this website working.
Contributions associated with a particular boat
(e.g. history, cruises, modifications etc.)
Boat Blogs
Browse a Boat Blog
Enter Sail Number – eg. A178, A89 or A31/4 or F36. If you don't know the sail number search the Boat Registers to access by boat name.
General questions and comments, usually not specific to a particular boat.
Forum
(20th June 2019: Old forums 'The Bar', 'Workshop' and 'AOA Membership now merged into 'AOA Forum')
Recent Blog Activity
Recent Blog Comments
Recent Posts
2018 August
- After many years of being based at Ramsholt on the Deben and sailing the Thames Estuary with forays to Holland, France and Scotland (by trailer), Bluster has now moved to ...
Comments:
(0)
2018 July
- As part of her restoration Atalanta a1 has now received a shiny red Beta diesel. You will be able to read about the details of the installation in the future ...
Comments:
(1)
2018 July
- Reluctant sale, due to purchase of larger boat. A90 Mourne Goblin had a full rebuild 2000/2005 – see A90 Boat Page (detail requires site registration). Ashore on trailer West Yorkshire, offers around ...
Comments:
(0)
2018 July
- Photos covering the refit in 1990 and subsequent sailing across to Cherbourg on her first cruise. She was still powered by her Coventry Victor engine at this point. Subsequent photos ...
Comments:
(1)
2018 July
- A1 travelled from Market Harborough to Brightlingsea for Mark Butler, of James Lawrence sails, to measure her up for new sails. This meant Mike was able to prove his tow car, ...
Comments:
(0)
2018 July
- Major Robin Shinkwin was apparently the second owner of F8 "Iona". The photo shows Him on A5 " Diaphony" on a cruise down to St Malo, with my Father, myself ...
Comments:
(0)
2018 July
- Spotted in Marans near La Rochelle by no less than two local Fulmar fans ! Looking good, very good!
Comments:
(0)
2018 July
- A1's keel plates and hoist have been completely refurbished. The lifting gear is of interesting design – the same principle was used in the production Atalantas but the original has cables ...
Comments:
(4)
2018 July
- A48 was launched as "ATALA" and was originally owned by John A. Strubbe FRIBA, his wife and children . Interestingly it was John who was responsible for the Black Night ...
Comments:
(1)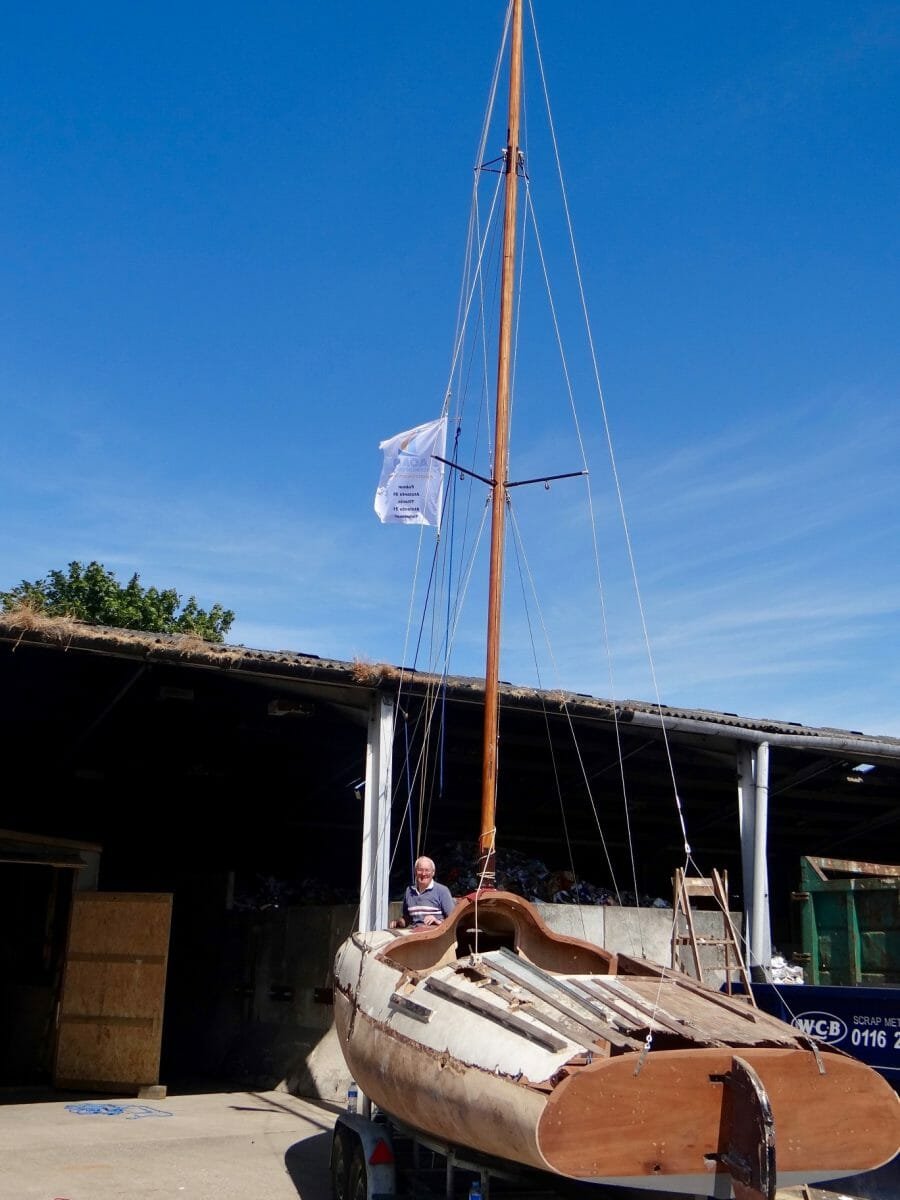 2018 July
- Mike's new sails are to be made by famous sailmaker Jimmy Lawrence, of Brightlingsea.  The loft insist on measuring the boat themselves. So all Mike has to do is get ...
Comments:
(0)
2018 July
- Mike bought Kotora's old trailer and heavily refurbished it.  It is of an interesting design, quite different to others I have seen.  It has central supports for the keel and ...
Comments:
(0)
2018 July
- A1 Atalanta has been tucked up in her workshop for the last 18 months after rescue from a garden in Essex. Mike (Dixon) has achieved an amazing amount of progress ...
Comments:
(1)
2018 June
-           Back in the depth of winter my wife Lara announces that she is taking part with my eldest daughter in the annual diving club trip ...
Comments:
(2)
2018 June
- I found these images of A104 Arosa whilst looking for something entirely different and thought they might be of interest.
Comments:
(0)
2018 June
- Yet another year has passed and I haven't had time to touch Cyn. She is complete and watertight wooden mast and a yanmar engine which isn't fitted. There is a rough yard ...
Comments:
(1)
2018 May
- As part of the continuing transfer of the AOA archives online I came across this note from the RONA Trust about Moyra's first owner Lord Amroy, and Moyra's role in ...
Comments:
(0)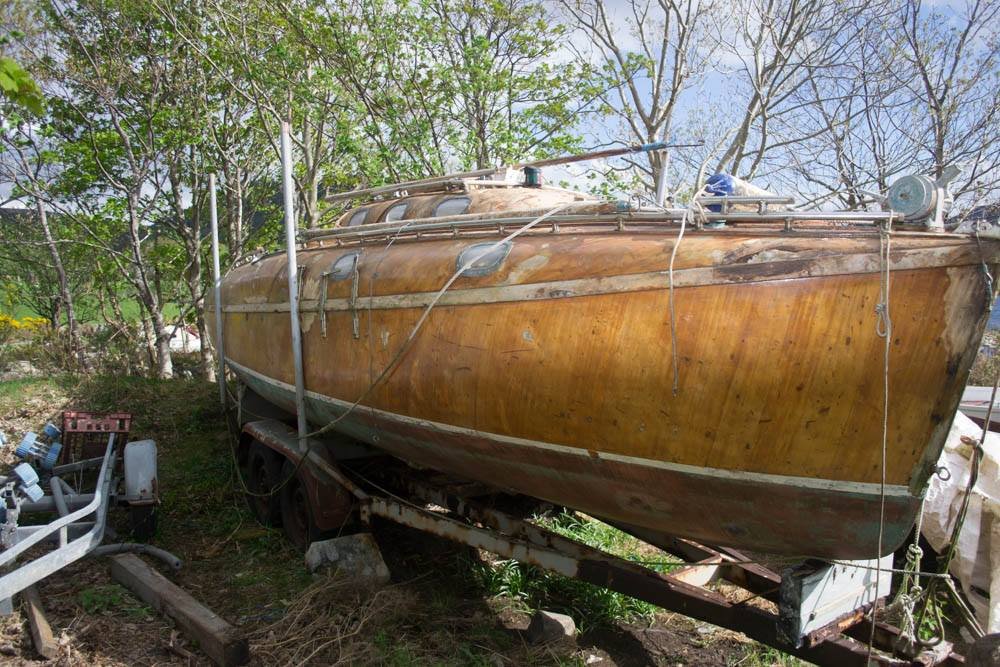 2018 May
- Atalanta 26 for sale – A161 Amber Ellen. Based near Ullapool Amber Ellen is offered with a trailer and some interesting modifications including wheel steering. With varnished hull and decks ...
Comments:
(0)
2018 May
- Atalanta 26 A9 Ereina is for sale. Ereina is part way through a restoration interrupted due to move to sailing a catamaran. She is out of the water in South ...
Comments:
(0)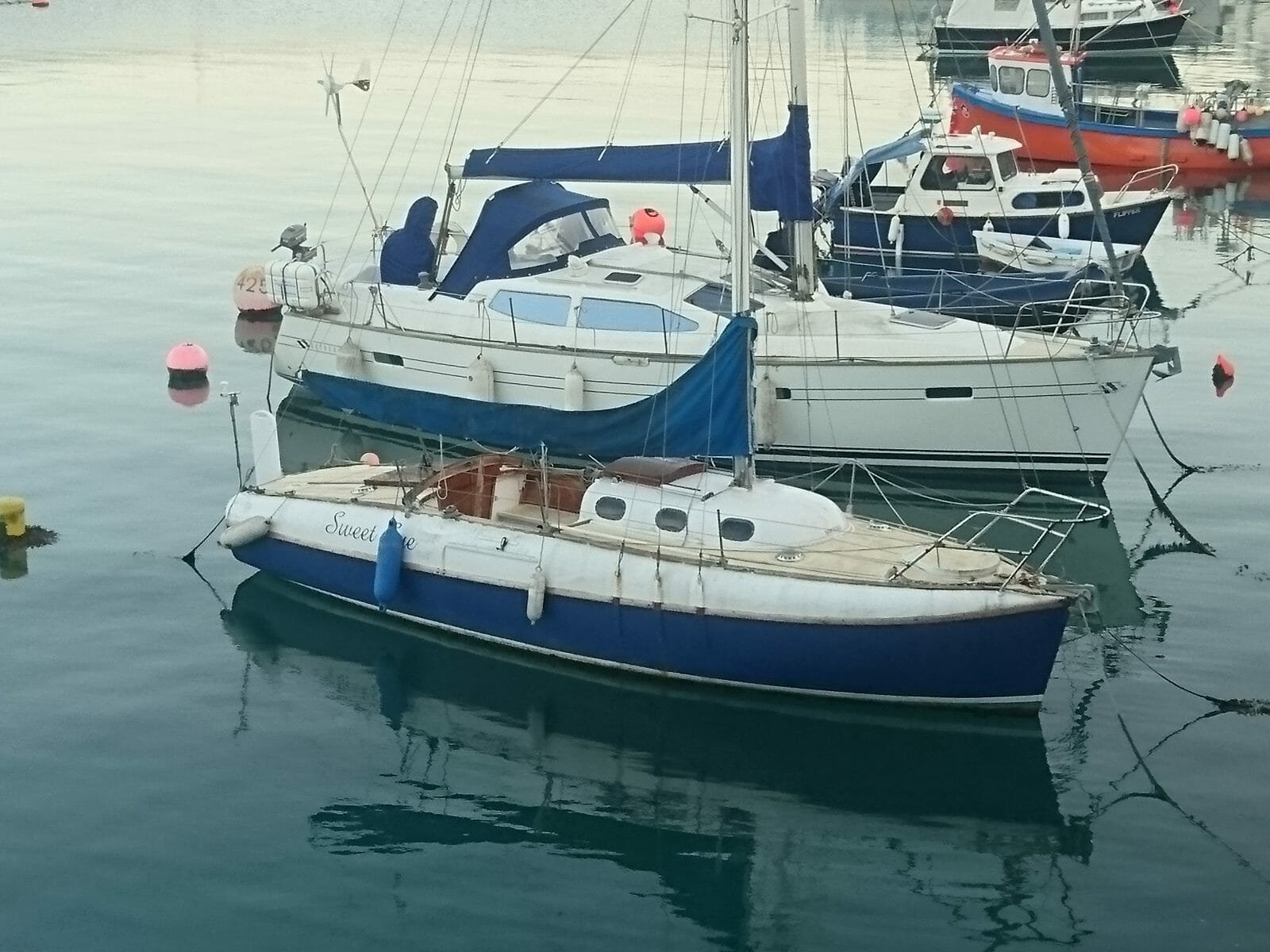 2018 May
- A138 Sweet Sue picture in Guernsey 5th May 218
Comments:
(2)
2018 May
- Our Secretary Richard has been on his travels, sailing tupperware yachts and popping in on unsuspecting Atalanta Owners. Richard visited Chris Berry in Truro. Chris has taken on A117 Turtle – ...
Comments:
(2)
Recent Forum Conversations