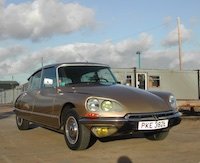 Nick Phillips
Participant
Trevor, many thanks for the reply.  You have triggered a number of trains of thought, and given me some hope of a way forward.  The first think I am going to do is get the current hubs off and see what I have got in the way of shaft and what else might match the hub. Should have done this before!
Rather strangely the bearings are completely free. Although something locked up sufficient to break the drum, everything is turning nice and smoothly now.  I can't remember testing the hub for movement just after the incident but either it froze through heat or possibly it was braking that separated the outer and inner parts of the hub?
Martin Bennett has also come up with options to get a new drum made up – it might cost a few hundred pounds but is likely to be cheaper than new axles / wheels. He has also know of welding hub faults, although I think this one is a little severe.