Welcome to the Fairey Marine Atalanta Owners Association
The Fairey Atalanta Owners Association exists in support of the Fairey Marine yachts and their owners. If this is your first visit to the site, the About page provides an overview of and links to the content of the site.
Take part in the discussions. If you like what you see why not become a Member of the Fairey Atalanta Owners Association for full access to our Archive including drawings, papers and individual boat details? Join the AOA
07/04/2018
Please add our Fairey yacht trips to our AOA60 Log Book to help us get round the World.
02/04/2018
The AOA0 Challenge is live – have a go, get on the leaderboard, and maybe learn some new facts about the Fairey Marine Yachts.
Recent Boat Blog Posts
22/03/2018 Chris Green
Above: 100W "Fuji Wave" panel – delivers a high voltage with exceptional low light energy capture. Mid afternoon March last w/e measured input was 300V+.These are designed for commercial solar ...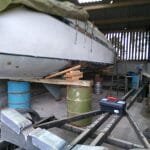 06/03/2018 Bernard Marshall
Today, the 5th March 2018, A86 was moved on her trailer and repositioned in the barn so that all round access was possible. Many thanks to Mike Dixon for coming ...
03/03/2018 AOA
This is a test of a Front End Post.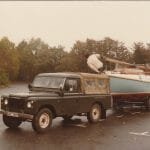 25/02/2018 Nick Phillips
These photographs relating to A110 Turnstone (now Trientje P, being restored in Germany) were kindly provided by Richard Slater.  [One of the pleasures I get from the website is connecting ...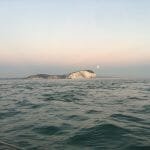 21/02/2018 Paul Jones
So I have finally got round to writing the final instalment of our journey from Isle of Man to Portsmouth. We had a fairly uneventful journey from Lizard to Portland Bill ...
16/02/2018 AOA
The 2018 AGM was held at the Tamesis Sailing Club on the River Thames in Hampton Wick. It was an excellent day with a suitable mix of 'business' and pleasure, ...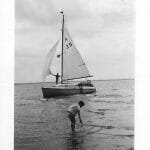 04/02/2018 egaisse
A memorable time for the family which we did not regret.The tide was running out fast in the Zandreek. so we went aground not exactly where we would have wished!. ...
04/02/2018 AOA
Pictures of A138 Echo iin 1989 and 1990 kindly provided by Piers Beckett.
31/01/2018 AOA
Below is a story of a long distance affair between Peter Nicholls and A125 Polaris II in Mexico. 1960 Polaris moves to Mexico Fairey Atalanta hull no 128 left the Hamble works ...
13/01/2018 Fairey Mary
I have driven past Genoa and La Spezia a number of times and although the west of Genoa has some beautiful driving roads.  Well they were before they filled them ...