Listed below are parts the AOA has bought or salvaged to support owners in maintaining and restoring their Atalantas. Parts are dry stored in shed inside a barn in Norfolk. Many thanks to Henry for the space.
Pricing
The AOA's aim for this parts service is to enable owners to get and keep their Atalantas in commission.
The AOA do not aim to make a profit from the Parts Service, but to cover their costs and most importantly to assist owners. Prices for Atalanta specific parts are very negotiable for AOA members and will be related to how the sale benefits the aim of keeping Atalantas in service. The Association does not want to become a source of cheap parts for boats outside of its purpose.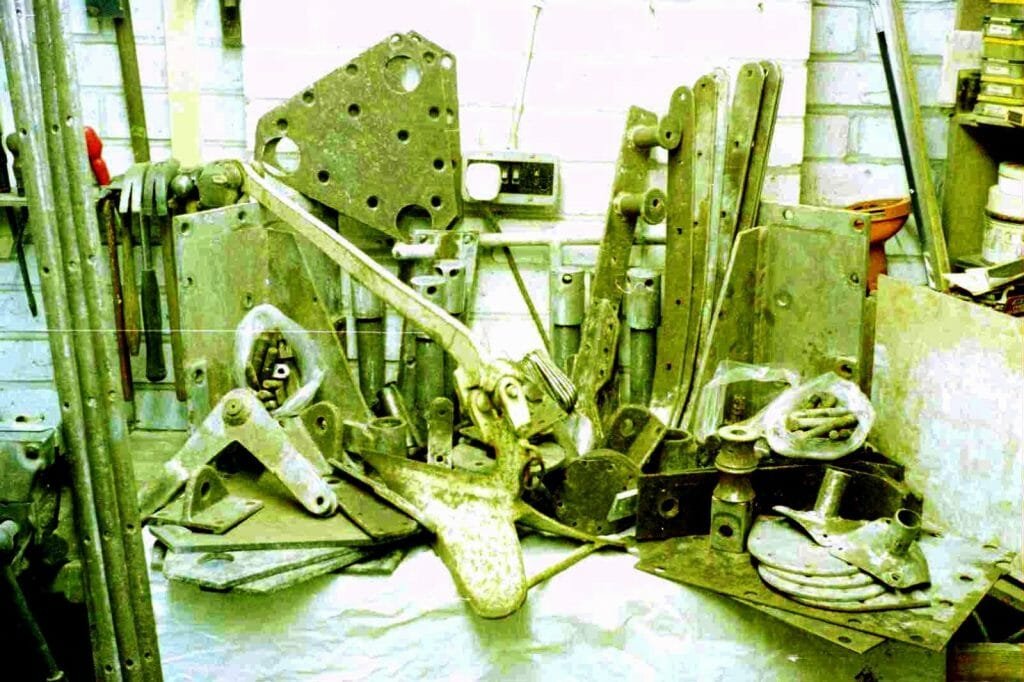 To buy a part
Please contact the parts team (!) – the Secretary or Webmaster – direct or use the Contact form. They will confirm availability, agree prices, discuss collection/delivery methods and costs and agree payment (PayPal, cheque or bank transfer please).
Please note that an item may have sold – it can take a few days to update this page.
Postage
The following delivery options are available:
Local collection from near Kings Lynn – free
Delivery by member to member contact – free. (We have many members who often drive around the country so may be able to organise this.)
Paid for postal services will be charged at cost using a courier service (Hermes, DPD etc).
---
Available Parts List
Use the filter boxes at the top of the table to see items by category. There is also a Search box. If you wish to see what parts we have for a particular class you should enter one of the following into the 'Search' field: 26 for Atalanta 26, T for Titania, F for Fulmar, 31 for Atalanta 31
Update October 2022: New parts added after A179 is broken up. Enter 'A179' into the SEARCH box to see these parts
| Ref | Image | Category | Class | Title | Description | Number Available if not 1 | Guide_Price Each | Guide Value (calculated) or SOLD price | Owner | Cost | Source | Available | Sales Ticket | Sold To | SaleDate YYYYMM | Owner Banked Date DD/MM/YYYY | Accounts Ledger Updated |
| --- | --- | --- | --- | --- | --- | --- | --- | --- | --- | --- | --- | --- | --- | --- | --- | --- | --- |
| 1 | | DeckFittings | 26,T | Windows - Blister | Set of 4 frames with old perspex and some but not all bolts. Available separately | 4 | 10 | 40 | AOA | | A154 | SOLD | 7 | | | | |
| 1 | | DeckFittings | 26,T | Windows - Blister | Set of 2 frames with old perspex and some but not all bolts. Available separately | 2 | 5 | 10 | AOA | | A154 | Yes | | | | | |
| 2 | | DeckFittings | 26, T | Windows- Blister (large) from Titania blister | 8 x large windows from Titania blister including (clouded) perspex and bolts - still fitted to the timber lister sides! Available separately | 8 | 10 | 80 | Simon West | | T4 | Yes | | | | | |
| 128 | | DeckFittings | 26,T | Windows - Blister for 26. 999666 | 'standard' Atalanta Blister windows Dimensions Frames in good order. Perspex not so. No bolts 6 available, separately | 6 | 5 | 30 | AOA | | A145 | Yes | | | | | |
| 3 | | DeckFittings | 26, T | Windows - Blister for 26 | 'standard' Atalanta Blister windows Dimensions Frames in good order. Perspex not so. No bolts 6 available, separately | 6 | 5 | 30 | Simon West | | T4 | Yes | | | | | |
| 4 | | DeckFittings | 26 | Boarding ladder - original with swimming extension | Shaped boarding ladder in very good condition. Includes weighted rope extension for access from in the water. | | 30 | 30 | AOA | | A154 | SOLD | 26 | Ted Baker | 202,305 | | |
| 5 | | DeckFittings | 26, T | Bow fitting | Galvanised bow fitting including bitts, roller and stem bracket. | | 10 | 10 | Simon West | | T4 | SOLD | 12 | James Taylor A92 | 202,202 | | |
| 6 | | DeckFittings | 26,T,F,31 | Fairlead - Bronze 4" chromed - 2 pairs | Chroming is tarnished but otherwise these are in very good condition. Two pairs | 2 | 15 | 30 | AOA | | A154 | SOLD | 5 | Jonathan Stearn | 202,012 | | |
| 7 | | DeckFittings | 26,T,F | Hatch runner strips - bronze | Flat bronze strip for traditional hatch slides. One set for aft cabin one set for main hatch. Price for all 4. Could be sold ondividually. | 4 | 5 | 20 | AOA | | A154 | Yes | | | | | |
| 129 | | DeckFittings | 26,T | Aft hatch runner strips | Flat bronze stip for hatch slides. 5' x 1.25". Pair in good condition | 2 | 5 | 10 | AOA | | A155 | Yes | | | | | |
| 8 | | DeckFittings | 26,T | Mainsheet horse pins in bronze | Good condition pins. Four available, separately | 2 | 5 | 10 | AOA | | A154 | SOLD | 23 | Aaron Todd | 202,302 | | |
| 138 | | DeckFittings | 26,T | Mainsheet horse 'legs' | Two wooden legs with bronze end fittings to raise mainsheet horse to act as boom gallows and clear aftcabin entrance | 2 | 15 | 30 | AOA | | A155 | SOLD | 27 | Richard James | 202,309 | | |
| 8 | | DeckFittings | 26,T | Mainsheet horse pins in bronze | Good condition pins. Four available, separately | 2 | 0 | 0 | AOA | | A154 | Disposed | 11 | STOCK CHECK - Disposed | 202,201 | | |
| 9 | | DeckFittings | 26, T | Compass - bulkhead | Bulkhead compass Reasonable condition, may be a bit slow to react. | | 0 | 0 | Simon West | | T4 | Disposed | 11 | STOCK CHECK - Disposed | 202,201 | | |
| 10 | | DeckFittings | 26,F,T,31 | Cleats - Chromed bronze 'bollard' style x 2 | Chroming is tarnished but otherwise very good condition. Two available | 2 | 5 | 10 | AOA | | A154 | SOLD | 14 | AOA Boat Jumble 5/4/22 | 202,204 | | |
| 11 | | DeckFittings | 26 | Cockpit seat hinged extensions as berths | Pair of hinged boards fit to edge of cockpit seats to support legs when heeled and extend platform to use as berths. | | 25 | 25 | AOA | | A154 | SOLD | 13 | Derrick Ardron | 202,203 | | |
| 12 | | DeckFittings | 26,T,F,31 | Girdlestone 3" single speed winches - pair | As new and unused pair of G8 single speed winches. Girdlestone were bought by Barton Marine and spares are still available. | | 66 | 66 | Rosemary Buchanan | | A154 | SOLD | 0 | Sold on ebay | 202,010 | | |
| 13 | | DeckFittings | 26,T,F,31 | Girdlestone 3" two speed winches - pair | As new and unused pair of G23 3" two speed winches. Girdlestone were bought by Barton Marine and spares are still available. | | 110 | 110 | Rosemary Buchanan | | A154 | SOLD | 0 | Sold on ebay | 202,010 | | |
| 14 | | DeckFittings | 26,T,F,31 | Girdlestone Winch Handles | Pair of winch handles - one long, one short. | | 9 | 9 | Rosemary Buchanan | | A154 | SOLD | 0 | Sold on ebay | 202,011 | | |
| 15 | | DeckFittings | 26,T,F,31 | Girdlestone Winch Handles | Pair of winch handles - one long, one short. | | 0 | 0 | Rosemary Buchanan | | A154 | Disposed | 11 | STOCK CHECK - Disposed | 202,201 | | |
| 16 | | DeckFittings | 26 | Stanchions and guard rails | Full set of guardrails.Each side is in two parts - two stanchions forward, one aft. | | 75 | 75 | AOA | | A154 | SOLD | 6 | Peter Thomas, Cornwall | 202,012 | 20/12/2020 | Yes |
| 17 | | DeckFittings | 26,T,F,31 | Lifebelt | Original lifebelt from A154 (Jumble) | | 5 | 5 | AOA | | A154 | SOLD | 14 | AOA Boat Jumble 5/4/22 | 202,204 | | |
| 18 | | DeckFittings | 26,T | Mainsheet horse | Wooden horse, bronze track and sliders. | | 40 | 40 | Simon West | | T4 | SOLD | 1 | A124 Nick Phillips | 202,008 | 15/11/2020 | |
| 135 | | DeckFittings | 26,T | Mainsheet horse complete - track, sliders and stops | Mainsheet horse in good condition. | | 30 | 30 | AOA | | A155 | Yes | | | | | |
| 19 | | DeckFittings | 26,T | Mainsheet horse complete and bronze brackets | Mainsheet horse in very good condition. Track and sliders are in chromed bronze. Includes bronze plates and wooden blocks for mounting. | | 40 | 40 | AOA | | A154 | Yes | | | | | |
| 20 | | DeckFittings | 26, T | Mainsheet horse bronze bracket | Mainsheet horse bracket. Two plates to make one bracket | | 5 | 5 | Simon West | | T4 | Yes | | | | | |
| 21 | | DeckFittings | 26,T | Mast step fitting | Mast step fitting in good condition | | 10 | 10 | AOA | | A154 | SOLD | 5 | A183 Jon Stearn | 202,012 | | |
| 22 | | DeckFittings | 26,T | Pulpit - stainless | Stainless steel pulpit (Jumble) | | 20 | 20 | Simon West | | T4 | SOLD | 14 | AOA Boat Jumble 5/4/22 | 202,204 | | |
| 23 | | DeckFittings | 26 | Pulpit - stainless | Stainless pulpit in excellent condition. Includes the mounting blocks on the deck and the backing blocks. | | 40 | 40 | AOA | | A154 | SOLD | 12 | James Taylor A92 | 202,202 | | |
| 24 | | DeckFittings | 26, T | Radar Reflector | Firdell Blipper radar reflector including mounting brackets (Jumble) | | 5 | 5 | Simon West | | T4 | SOLD | 14 | AOA Boat Jumble 5/4/22 | 202,204 | | |
| 25 | | DeckFittings | 26,T | Bow fitting - roller and bitts in stainless steel | Brand new stainless bow fitting | | 40 | 40 | AOA | | A154 | SOLD | 5 | A183 Jon Stearn | 202,012 | | |
| 26 | | DeckFittings | 26, T | Handrails in stainless tube 6' x 2 | Handrails. Stainless tube ¾", 6' long, were fitted on top of Titania blister Includes bolts/nuts/washers Price is each (Jumble) | 2 | 10 | 20 | Simon West | | T4 | SOLD | 14 | AOA Boat Jumble 5/4/22 | 202,204 | | |
| 27 | | DeckFittings | 26,F,T,31 | Stanchion bases - new s/stell | New stainless stanchion bases Set of 6 - would break up | | 25 | 25 | AOA | | A154 | SOLD | 6 | Peter Thomas, Cornwall | | | |
| 28 | | DeckFittings | 26 | Cockpit keel box covers - timber slats | Timber slats which fit beside engine hatches in cockpit over the drains | | 20 | 20 | AOA | | A154 | Yes | | | | | |
| 29 | | DeckFittings | 26,T | Toerail cappings - incomplete | Toerails for foredeck, one side broken | | 5 | 5 | AOA | | A154 | SOLD | 3 | A89 Richard James | 202,010 | | |
| 30 | | DeckFittings | 26, T | Track - bronze 1" | Bronze track (mainsail track, hatch runners) Price is for 4' length | | 0 | 0 | Simon West | | T4 | SOLD | 2 | A1 Mike Dixon | 202,008 | 15/08/2020 | |
| 31 | | DeckFittings | 26,T,F,31 | Tracks and sliders - chromed bronze | Chromed Bronze 1" tracks with sliders. The chrome is tarnished. The sliders appear to be suited to spinnaker / jib poles suggesting the track was used on a mast. But could be used for foresail sheets. Two available, separately | 2 | 20 | 40 | AOA | | A154 | Yes | | | | | |
| 32 | | DeckFittings | 26,T,F | Winch - tufnol bottom action sheet x 2 | Good condition shet winches Two available, separately (Jumble) | 2 | 10 | 20 | AOA | | A154 | SOLD | 14 | AOA Boat Jumble 5/4/22 | 202,204 | | |
| 33 | | DeckFittings | 26,T,F,31 | Cleats tufnol - jamming | Good condition cleats. These are almost impossible to find new or secondhand. Two available, separately | 2 | 5 | 10 | AOA | | A154 | SOLD | 14 | AOA Boat Jumble 5/4/22 | 202,204 | | |
| 34 | | DeckFittings | 26,T,F,31 | Cleats tufnol 8" | Good condition cleats. These are almost impossible to find new or secondhand. Two available, separately. ONLY ONE LEFT | | 0 | 0 | AOA | | A154 | Disposed | 11 | STOCK CHECK - Disposed | 202,201 | | |
| 131 | | DeckFittings | 26,T,F | Track tufnol end-stops | Tufnol end stops from tracks used on mainsheet horse, front of mast ofr spinnaker, mast track and sheet block tracks. 1" track, Pair available | 2 | 5 | 10 | AOA | | A155 | Yes | | | | | |
| 35 | | DeckFittings | 26,T | Track tufnol end-stops | Tufnol end stops from mainsheet horse and other 1" track ONE available | 2 | 0 | 0 | AOA | | A154 | SOLD | 2 | Mike Dixon | 202,012 | | |
| 124 | | DeckFittings | 26,T | Track tufnol end-stops | Tufnol end stops from mainsheet horse and other 1" track two available separately | 1 | 10 | 10 | AOA | | A154 | SOLD | 13 | Derrick Ardron | 202,203 | | |
| 36 | | Sails | 26 | Working Jib | Okay condition, Requires clean and piston hank servicing. | | 10 | 10 | AOA | | A154 | Yes | | | | | |
| 132 | | Electrical | 26.T.F | Interior light - glass dome, switched | Original chromed brass glass dome light with switch | 1 | 4 | 4 | AOA | | A155 | SOLD | 25 | Norfolk Boat Jumblr | 202,304 | | |
| 37 | | Electrical | 26,T,F | Interior lights - glass dome | Original chromed brass glass dome lights. All appear functional. 4 unswithced available, separately. | 4 | 5 | 20 | AOA | | A154 | SOLD | 23 | Aaron Todd | 202,302 | | |
| 38 | | Electrical | 26,T,F,31 | Navigation lights - Port & Starboard - Aquasignal | Good condition Aquasignal navlights for fitting on sidedecks / shrouds. Available as a pair (Jumble) | | 20 | 20 | AOA | | A154 | SOLD | 14 | AOA Boat Jumble 5/4/22 | 202,204 | | |
| 39 | | Electrical | 26, T | Electric switch panel - 6 | Electric Switch panel. 6 rocker switches | | 0 | 0 | Simon West | | T4 | Disposed | 11 | STOCK CHECK - Disposed | 202,201 | | |
| 40 | | EngineSterngear | 36,T,F | Coventry Victor magneto | Coventry Victor magneto. Not known if it works. (Jumble) | | 35 | 35 | AOA | | A154 | SOLD | 14 | AOA Boat Jumble 5/4/22 | 202,204 | | |
| 41 | | EngineSterngear | 26,T | P Bracket | Very good condition | | 10 | 10 | AOA | | A154 | Yes | | | | | |
| 43 | | EngineSterngear | 26 | Tank - Triangular under-sidetank fuel tank | Triangular fuel tank fits above cockpit seats under curve of deck. Good condition | | 30 | 30 | AOA | | A154 | Yes | | | | | |
| 134 | | GenChandlery | 26,T,F | Whisker pole | Whisker pole, some damage to outer layer of timber. Stainless stel=el clip on end, hook at other. | | 15 | 15 | AOA | | A155 | SOLD | 15 | Nick Phillips | 202,207 | | |
| 44 | | GenChandlery | 26,T,F,31 | Boat Hook (Jumble) | Good condition timber boathook with chromed business end | | 15 | 15 | AOA | | A154 | SOLD | 14 | AOA Boat Jumble 5/4/22 | 202,204 | | |
| 45 | | GenChandlery | 26,T,F,31 | Fairlead - Bullseye | Bullseye fairlead in bronze frame | | 5 | 5 | AOA | | A154 | Disposed | | | | | |
| 46 | | GenChandlery | 26,T,F,31 | Lacing eyes - chromed bronze | Good condition, tarnished chrome 4 available separately (Jumble) | 4 | 1 | 4 | AOA | | A154 | SOLD | 14 | AOA Boat Jumble 5/4/22 | 202,204 | | |
| 47 | | GenChandlery | 26,T,F,31 | Eye plates - Chromed bronze | Good condition, tarnished chrome 4 available separately | 2 | 5 | 10 | AOA | | A154 | SOLD | 5 | JOnathan Stearn | 202,012 | | |
| 125 | | GenChandlery | 26,T,F,31 | Eye plates - Chromed bronze | Good condition, tarnished chrome 4 available separately (Jumble) | 2 | 1 | 2 | AOA | | A154 | SOLD | 14 | AOA Boat Jumble 5/4/22 | 202,204 | | |
| 48 | | GenChandlery | 26,T,F,31 | Eye plates angled - Chromed bronze | Good condition, tarnished chrome 2 available separately (Jumble) | 2 | 1 | 2 | AOA | | A154 | SOLD | 14 | AOA Boat Jumble 5/4/22 | 202,204 | | |
| 49 | | GenChandlery | 36,T,F | Anchor and Chain - Danforth lookalike | 10kg Danforth style anchor and 22m of 5/16" (8mm)chain. | | 25 | 25 | AOA | | A154 | SOLD | 9 | Mike Fressing | 202,109 | | Yes |
| 133 | | GenChandlery | 26,T,F,31 | Flagstaff socket | brass flagstaff socket | 1 | 5 | 5 | AOA | | A155 | Yes | | | | | |
| 50 | | GenChandlery | 26,T,F,31 | Flagstaff socket | Chromed flagstaff socket (Jumble) | | 4 | 4 | AOA | | A154 | SOLD | 14 | AOA Boat Jumble 5/4/22 | 202,204 | | |
| 51 | | GenChandlery | 26,T,F,31 | Mooring snubbers x 3 | Appear good condition (Jumble) | | 5 | 5 | AOA | | A154 | SOLD | 14 | AOA Boat Jumble 5/4/22 | 202,204 | | |
| 52 | | GenChandlery | 26,T,F,31 | Pushpit rails x 2 | Two quarter rails in 1" stainless. Presumed that they were bought for aft deck of Atalanta but not shaped for aftdeck slope. SOLD AS A PAIR | 2 | 72 | 145 | Rosemary Buchanan | | A154 | SOLD | 0 | Peter Thomas, Cornwall | 202,011 | | |
| 53 | | GenChandlery | 26,T,F,31 | Blocks tufnol - single x 3 | serviceable (Jumble) | 3 | 3 | 9 | AOA | | A154 | SOLD | 14 | AOA Boat Jumble 5/4/22 | 202,204 | | |
| 54 | | GenChandlery | 26,T,F,31 | Whisker pole | Good condition Sparlight whisker pole. Short for spinnaker. (Jumble) | | 15 | 15 | AOA | | A154 | SOLD | 14 | AOA Boat Jumble 5/4/22 | 202,204 | | |
| 55 | | Interior | 26 | Backrest mahogany slats | 6 backrest slats in mahogany - one broken. Fitted to hull in main cabin | | 5 | 5 | AOA | | A154 | SOLD | 13 | Derrick Ardron | 202,203 | | |
| 56 | | Interior | 26 | Cabin table with folding legs | Timber cabin table with formica top. Has folding legs - one short to fit within bulkhead aperture and one long to support forward end in cabin. All in very good condition | | 25 | 25 | AOA | | A154 | SOLD | 12 | James Taylor A92 | 202,202 | | |
| 57 | | Interior | 26 | Cooker gimbal | Original cooker gimbal frame. Includes the large knurled 'nuts' but not the pivot bolts they fit to. | | 5 | 5 | AOA | | A154 | SOLD | 25 | Norfolk Boat Jumblr | 202,304 | | |
| 58 | | Interior | 26 | Cooker hood to protect deckhead | Metal hood shaped to fit under the curved deck over the galley. | | 5 | 5 | AOA | | A154 | SOLD | 13 | Derrick Ardron | 202,203 | | |
| 59 | | Interior | 26 | Sink unit and cutlery tray, and chart table which fits over | Sink and frame in very good condition. Includes cutlery draw and chart table board which fits over. | | 40 | 40 | AOA | | A154 | Yes | | | | | |
| 60 | | Interior | 26,T,F,31 | Various galley shelving | Pan holder, cup holder, other shelving units. All made in plywood. Available separately. Guide price is per item (Jumble) | | 5 | 5 | SImon West | | T4 | SOLD | 14 | AOA Boat Jumble 5/4/22 | 202,204 | | |
| 61 | | Keels | 26,T,F | Keel bolt nuts | Keelbolt nuts in very good condition. 6 available individually | 6 | 2 | 12 | AOA | | A154 | SOLD | 23 | Aaron Todd | | | |
| 62 | | Keels | 26,T,F | Keel bolts | Keel bolts in good condition. Zinc sprayed. 6 available as set, no nut | 1 | 18 | 18 | AOA | | A154 | SOLD | 23 | Aaron Todd | | | |
| 63 | | Keels | 26,T | Keel clamp plates - complete set. Price was £50, discounted to £35 as part of Chit 23 | Cllamp plates for keels. One set is three plates. Very good condition Sold as set of 3 plates - two sets available | 2 | 16 | 33 | AOA | | A154 | SOLD | 23 | Aaron Todd | | | |
| 64 | | Keels | 26,T,F | Keel hoist handle | Good condition. 1 | 1 | 5 | 5 | AOA | | A154 | Yes | | | | | |
| 64 | | Keels | 26,T,F | Keel hoist handle | Good condition. 1 | 1 | 0 | 0 | AOA | | A154 | Disposed | 11 | STOCK CHECK - Disposed | 202,201 | | |
| 65 | | Keels | 26, T | Keel hoist handle | Keel hoist handle | | 0 | 0 | Simon West | | T4 | Disposed | 11 | STOCK CHECK - Disposed | 202,201 | | |
| 66 | | Keels | 26,T,F | Keel lifting screw jacks | Good condition screwjacks | | 40 | 40 | AOA | | A154 | Yes | | | | | |
| 67 | | Keels | 26, T | Keel mounting steelwork | Port and starboard keel bolt frames / steelwork. Rusty and need work but could be restored or used as patterns. See photos here https://photos.app.goo.gl/G4v5QnNaKHD2Xj4w5 | | 0 | 0 | Simon West | | T4 | Yes | | | | | |
| 68 | | Keels | 26,T | Keel support brackets excluding lifting eyes | Complete set of steel for the keel mounting brackets. 2 x L-shaped brackets, 2 x keel up stops, 2 x stirrups, 6 x keelbolt removal hole covers, NO LARGE BACKING PLATES | | 290 | 290 | AOA | | A154 | SOLD | 10 | A183 Jonathan Stearn | 202,111 | | |
| 69 | | Keels | 26,T | Keelbox wash plates and fittings | Keelbox wash plates, metal mount to keel stirrup and bronze lifting brackets. In good condition with some refurbishment needed for fixing of brackets. | | 30 | 30 | AOA | | A154 | SOLD | 3 | A89 Richard James | 202,010 | | |
| 70 | | Keels | 26, T, F | Keels | Keels. Holes elongated - will need bushing. 1, possibly 2 available - ask | 1 | 50 | 50 | Simon West | | T4 | Yes | | | | | |
| 71 | | Keels | 26,T | Plates for forward end of slot rubbers | Plates which cover the forward end of slot rubbers. Good conditionl PRICE IS FOR THE PAIR | | 5 | 5 | AOA | | A154 | Yes | | | | | |
| 72 | | Miscellaneous | 26,T | Lifting strops and eye plates | Lifting strop for atalanta using two eyes fixed to keel plates and one eye fixed to centreline in aft cabin. All in good condition. | | 50 | 50 | AOA | | A154 | SOLD | 5 | Jonathan Stearn | 202,012 | | |
| 73 | | Plumbing | 26,T,F,31 | Bilge pump - Henderson Chimp II direct pump | Henderson Chimp II pump. The pump is no longer available but service kits are. This pump including its diaphragm are in very good unused condition. | | 17 | 17 | Rosemary Buchanan | | A154 | SOLD | 0 | Sold on ebay | 202,011 | | |
| 74 | | Plumbing | 26,T,F,31 | Bilge pump - Henderson Chimp II through bulkhead pump | Henderson Chimp II pump and handle. Handle operation through bulkhead The pump is no longer available but service kits are. This pump including its diaphragm are in very good unused condition. | | 27 | 27 | Rosemary Buchanan | | A154 | SOLD | 0 | Sold on ebay | 202,011 | | |
| 75 | | Plumbing | 26 | Tank - water, shaped | Water tank. Needs new cover plate. Shaped to fit in bilge ahead just aft of cockpit forward bulkhead Dimensions similar to the one in this album https://photos.app.goo.gl/5thF9rhvhhaLCi6C7 NOTE - this is NOT the tank in the album but sizes are the same. | | 15 | 15 | AOA | | A154 | Yes | | | | | |
| 76 | | Plumbing | 26, T | Tank - water, shaped, stainless | Stainless water tank. Needs new cover plate. Shaped to fit in bilge ahead just aft of cockpit forward bulkhead Dimensions and more detail on the photos in this album https://photos.app.goo.gl/5thF9rhvhhaLCi6C7 | | 15 | 15 | Simon West | | T4 | SOLD | 13 | Derrick Ardron | 202,203 | | |
| 77 | | RigRigging | 26 | 3/4 rig backstay and bronze bottlescrews x2 | The wire is not usable but the bronze bottlescrews are. | | 10 | 10 | AOA | | A154 | Yes | | | | | |
| 78 | | RigRigging | 26 | 3/4 Rig centre shrouds, spreaders, and bronze bottlescrews | The wire is not usable but the bronze bottlescrews are. The aluminium spreaders are probably serviceable but would require some refurbishment | | 15 | 15 | AOA | | A154 | Yes | | | | | |
| 79 | | RigRigging | 26 | 3/4 rig lower shrouds, mast tangs and bottlescrews x 2 | The wire is not usable but the bronze bottlescrews and mast tangs are. | | 20 | 20 | AOA | | A154 | Yes | | | | | |
| 80 | | RigRigging | 26,T | Backstay | The wire is not usable but the plate and bronze bottlescrews are. | | 10 | 10 | AOA | | A154 | Yes | | | | | |
| 81 | | RigRigging | 26 | Boom (26) with chromed bronze fittings | Original boom in excellent condition with chromed bronze end fittings | | 50 | 50 | AOA | | A154 | Yes | | | | | |
| 82 | | RigRigging | 26, T | Boom (Titania) | Boom from Titania. ?? Same as Atalanta tbc Rigged for slab reefing including blocks and tack hooks. Footrope slot slightly large in one place but has not been used like this for over 20 years. Could still be used for roller reefing with reinstated reefing handle. | | 50 | 50 | Simon West | | T4 | Yes | | | | | |
| 83 | | RigRigging | 26 | Complete 3/4 Mast Chromed Fittings | Atalanta 26 3/4 rig wooden mast WITH ALL CHROMED bronzework. This mast has been painted but paint could be removed easily. It appears to be very sound. The mast has been stored for at least 24 years and has got damp in places however it looks to be sound. It is now stored inside. LOCATED NEAR WINDERMERE See more photos at: https://photos.app.goo.gl/gkq6JyRsrG4tCs4J9 | | 150 | 150 | AOA | | A154 | SOLD | 8 | Ted Bake | 202,108 | | Yes |
| 84 | | RigRigging | 26, T | Diamond stay spreaders | Diamond Stay jumpers and wire for 3/4 rigged wooden mast. Includes bolts and tangs for shroud attachment. See photos in this album https://photos.app.goo.gl/34ZjeS22EebfT1wbA | | 15 | 15 | Simon West | | T4 | Yes | | | | | |
| 85 | | RigRigging | 26 | Forestay - roller reefing with top swivel & drum and bronze bottlescrew | The wire is not usable but the bronze bottlescrew, the swivel and drum are serviceable. | | 10 | 10 | AOA | | A154 | Yes | | | | | |
| 86 | | RigRigging | 26,T,F | Jibsheets | Used but serviceable jib sheets | | 0 | 0 | AOA | | A154 | Disposed | 11 | STOCK CHECK - Disposed | 202,201 | | |
| 87 | | RigRigging | 26,T,F | Mainsheet | Used but serviceable mainsheed - two blocks | | 0 | 0 | AOA | | A154 | Disposed | 11 | STOCK CHECK - Disposed | 202,201 | | |
| 88 | | RigRigging | 26,T,F | Mainsheet | Used but serviceable mainsheed - two blocks | | 0 | 0 | AOA | | A154 | Disposed | 11 | STOCK CHECK - Disposed | 202,201 | | |
| 89 | | RigRigging | 26, T | Mast crane - stainless | Custom mast crane. Supports for spinnaker halyard, windex, VHF and …. (Jumble) | | 5 | 5 | Simon West | | T4 | SOLD | 14 | AOA Boat Jumble 5/4/22 | 202,204 | | |
| 90 | | RigRigging | 26,T | Mast heel bronze fitting | Bronze mast heel as fitted to Titania and 26 masts | | 12 | 12 | Simon West | | T4 | Yes | | | | | |
| 91 | | RigRigging | 26,T,F | Mast raising tackle - blocks and swivel (Blocks retained - 124) | Used but serviceable tackle assumed for mast raising - two blocks and swivel | | 0 | 0 | AOA | | A154 | Disposed | 11 | STOCK CHECK - Disposed | 202,201 | | |
| 92 | | RigRigging | 26, T | Mast spreaders | Spreaders (non standard) (Jumble) | | 5 | 5 | Simon West | | T4 | SOLD | 14 | AOA Boat Jumble 5/4/22 | 202,204 | | |
| 93 | | RigRigging | 26, T | Mast Step | Titania / Atalanta mast step | | 0 | 0 | Simon West | | T4 | Disposed | 11 | STOCK CHECK - Disposed | 202,201 | | |
| 94 | | RigRigging | 26,T | Mast winch handles | Mast winch handles in bronze x 2. Bronze clamping screw replaced with stainless. Price is each | 1 | 0 | 0 | Simon West | | T4 | Disposed | 11 | STOCK CHECK - Disposed | 202,201 | | |
| 94 | | RigRigging | 26,T | Mast winch handles | Mast winch handles in bronze. Bronze clamping screw replaced with stainless. 1 available | 1 | 30 | 30 | Simon West | | T4 | SOLD | 13 | Derrick Ardron | 202,203 | | |
| 95 | | RigRigging | 26,T | Mast winches | Bronze mast winches | | 15 | 15 | Simon West | | T4 | Yes | | | | | |
| 139 | | RigRigging | 26,T | Mast winches | Bronze wire mast winches both. Sold as two separate items. | 2 | 10 | 20 | AOA | | A155 | Yes | | | | | |
| 139 | | RigRigging | 26,T | Mast winches original handle | Bronze mast winches original handle | 1 | 15 | 15 | AOA | | A155 | SOLD | 26 | Ted Baker | 202,305 | | |
| 139 | | RigRigging | 26,T | Mast winches original handle | Bronze mast winches original handle | 1 | 15 | 15 | AOA | | A155 | SOLD | 23 | Aaron Todd | | | |
| 137 | | RigRigging | 26,T,F | Mast Track 1" Bronze | 24' of bronze mast track, in 4x6' + 1x1' lengths. £10/length | 4 | 10 | 40 | AOA | | A155 | Yes | | | | | |
| 96 | | RigRigging | 26,T,F,31 | Signal halyard Bronze cleats | Original curved 4" bronze cleats fitted one each side for signal flag halyards. Price is each | 2 | 5 | 10 | Simon West | | T4 | SOLD | 5 | Jonathan Stearn | 202,012 | | |
| 97 | | RigRigging | 26, T | Spinnaker boom | Spinnaker boom in good condition, needs varnish | | 40 | 40 | Simon West | | T4 | SOLD | 16 | Mike Dixon | 202,209 | | |
| 98 | | RigRigging | 26,T | Spinnaker pole mast fitting | Spinnaker pole mounting ring on track. All bronze | | 20 | 20 | Simon West | | T4 | Yes | | | | | |
| 136 | | RigRigging | 26,T,F,31 | Spinnaker pole mast fitting | 1" tracks with slider for spinnaker pole. Fitted to front of masts. | 1 | 15 | 15 | AOA | | A155 | Yes | | | | | |
| 99 | | RigRigging | 26,T,F,31 | Topping Lift | Topping lift. Tired but serviceable | | 0 | 0 | AOA | | A154 | Disposed | 11 | STOCK CHECK - Disposed | 202,201 | | |
| 100 | | RigRigging | 26 | Wire halyard - jib? | Tired but serviceable | | 1 | 1 | AOA | | A154 | Yes | | | | | |
| 101 | | Sails | 26 | 3/4 Genoa - marked '50' | Okay condition, Requires clean and piston hank servicing. | | 15 | 15 | AOA | | A154 | Yes | | | | | |
| 102 | | Sails | 26 | 3/4 Genoa 150% | Okay condition, Requires clean and piston hank servicing. | | 20 | 20 | AOA | | A154 | Yes | | | | | |
| 103 | | Sails | T | 3/4 Headsail (tan) - roller reefing | Titania roller headsail - tan. Generally good condition but some damage to leech and UV strips need replacing. See photos here https://photos.app.goo.gl/vwcCgT3nEJ1p9BJT8 | | 50 | 50 | Simon West | | T4 | Yes | | | | | |
| 104 | | Sails | 26 | Mainsail | Good condition with brass sliders for 1" track. In good condition. Appears very usable but not yet tried on a boat. | | 50 | 50 | AOA | | A154 | SOLD | 4 | A5 Simon West | 202,011 | | |
| 105 | | Sails | 26,T,F,31 | Mainsail battens x 7 - hickory | Secen hickory tapered mainsail battens | | 5 | 5 | AOA | | A154 | SOLD | 14 | AOA Boat Jumble 5/4/22 | 202,204 | | |
| 106 | | Sails | 26 | Mainsail boom cover | Blue mainsail cover. Appears unused and in very good condition | | 25 | 25 | AOA | | A154 | SOLD | 13 | Derrick Ardron | 202,203 | | |
| 107 | | Sails | T | Mainsail Titania (tan) | Titania Mainsail - tan. Good condition with just a little discoloration on clew. See photos in this album https://photos.app.goo.gl/1EHmRNAMctEwi4at9 | | 75 | 75 | Simon West | | T4 | Yes | | | | | |
| 108 | | Sails | 26,T | Spinnaker | Red and yellow, good quality sail and fittings. Includes spinnaker turtle. | | 25 | 25 | AOA | | A154 | SOLD | 13 | Derrick Ardron | 202,203 | | |
| 109 | | Sails | 26,T | Storm Jib | White, very small. Okay condition, piston hanks require service | | 8 | 8 | AOA | | A154 | SOLD | 13 | Derrick Ardron | 202,203 | | |
| 110 | | Steering | 26,T | Rudder Blade | Good condition blade | | 30 | 30 | AOA | | A154 | Yes | | | | | |
| 111 | | Steering | 26,T | Rudder pintle from skeg | Aluminium rudder pintle from skeg. Serviceable. | | 10 | 10 | Simon West | | T4 | SOLD | 10 | A183 Jonathan Stearn | 202,111 | | |
| 112 | | Steering | 26,T | Rudder stock | Showing some signs of corrosion and plates separating. Could perhaps be repaired. | | 10 | 10 | AOA | | A154 | Yes | | | | | |
| 113 | | Steering | 26,T | Rudder up and down-hauls | Rudder uphaul and downhaul wires - tired but serviceable | | 1 | 1 | AOA | | A154 | Yes | | | | | |
| 132 | | Steering | 26,T | Top Rudder bearing | Bearing pintle in good condition | | 15 | 15 | AOA | | A155 | Yes | | | | | |
| 114 | | Steering | 26,T | Top rudder bearing assembly | Complete top rudder bearing assembly - inside and outside | | 20 | 20 | AOA | | A154 | Yes | | | | | |
| 115 | | Steering | 26, T | Vertical Rudder stock | Vertically lifting rudder stock frame is rusty and would need repair. Blade was split and delaminated and disposed of. See photos https://photos.app.goo.gl/972g8jZUrbw9XMee8 | | 0 | 0 | Simon West | | T4 | Yes | | | | | |
| 116 | | Steering | 26,T | Vertical Rudder stock broken blade | Nicely engineered stainless vertical lifting rudder stock from T4. Includes most of the blade but badly broken. Stock is in good condition. | | 90 | 90 | Simon West | | T4 | SOLD | 1 | A124 Nick Phillips | 202,008 | 15/11/2020 | |
| 117 | | Steering | 26,T | Whipstaff bearing, wires and turning blocks | Good bearing and 4x turning blocks. Wire appears sound. WOULD SPLIT if required. | | 40 | 40 | AOA | | A154 | SOLD | 13 | Derrick Ardron | 202,203 | | |
| 118 | | Steering | 26,T | Whistaff tiller | Good condition wooden tiller. | | 10 | 10 | AOA | | A154 | Yes | | | | | |
| 119 | | Woodwork | T | Aft cabin washboard Titania | Titania aft cabin washboard with brass circular vent | | 10 | 10 | Simon West | | T4 | Yes | | | | | |
| 130 | | Woodwork | 26 | Aft cabin washboards 26 | Washboard in very ok condition with vent. Some damage on one corner | | 8 | 8 | AOA | | A155 | Yes | | | | | |
| 120 | | Woodwork | 26 | Aft cabin washboard with vent | Washboard in very good condition with vent | | 20 | 20 | AOA | | A154 | SOLD | 13 | Derrick Ardron | 202,203 | | |
| 121 | | Woodwork | T,26 | Blister for Titania | Blister including quadrant in very good condition, painted outside varnished inside. Located in Lake District | | | 0 | Rosemary Buchanan | | A154 | Disposed | 11 | STOCK CHECK - Disposed | 202,201 | | |
| 122 | | Woodwork | 26 | Main hatch washboards & cockpit table | Atalanta main hatch washboards in one, hinged, piece including vent. Includes leg to use washboard as cockpit table | | 35 | 35 | AOA | | A154 | SOLD | 13 | Derrick Ardron | 202,203 | | |
| 123 | | Woodwork | T | Mainhatch for Titania | Titania Main hatch cover Good condition | | 25 | 25 | Simon West | | T4 | Yes | | | | | |
| 127 | | DeckFittings | 26,T,F,31 | Tufnol Blocks x 6 | Tufnol blocks various. (Released after scrapping main sheets salvaged) (Jumble) | 6 | 3 | 18 | AOA | | A154 | SOLD | 14 | AOA Boat Jumble 5/4/22 | 202,204 | | |
| 126 | | DeckFittings | 26,T | Forehatch | Forehatch - sound but tatty | 1 | 20 | 20 | AOA | | A154 | SOLD | 12 | James Taylor A92 | 202,202 | | |
| 0 | | DeckFittings | 26,T | Aft hatch runner strips https://drive.google.com/uc?id=1EQrPMYy-3mA2fbfc26-rlQXcOUojOG6z | Flat bronze strip for hatch slides. 5' x 1.25". Pair in good condition | 2 | 5 | 10 | AOA | | A179 | Yes | | | | | |
| 0 | | DeckFittings | 26,F,T,31 | Cleats - Large Bronze x 2 | In very good condition. Two available. | 2 | 7 | 15 | AOA | | A179 | SOLD | 25 | Norfolk Boat Jumblr | 202,304 | | |
| 0 | | DeckFittings | 26,F,T,31 | Cleats - stainless x2 | Very good condition stainless deck cleat | 2 | 7 | 15 | AOA | | A179 | SOLD | 25 | Norfolk Boat Jumblr | 202,304 | | |
| 0 | | DeckFittings | 26 | Cockpit keel box covers - timber slats | Timber slats which fit beside engine hatches in cockpit over the drains in good condition | | 20 | 20 | AOA | | A179 | Yes | | | | | |
| 0 | | DeckFittings | 26 | Cockpit seat hinged extensions as berths | Pair of hinged boards fit to edge of cockpit seats to support legs when heeled and extend platform to use as berths. VGC | 2 | 15 | 30 | AOA | | A179 | Yes | | | | | |
| 0 | | DeckFittings | 26,T,F,31 | Fairlead - Bronze 4" - 1 pair | Tarnished but otherwise these are in very good condition. Two pairs | 2 | 6 | 12 | AOA | | A179 | SOLD | 23 | Aaron Todd | | | |
| 0 | | DeckFittings | 26,T,F,31 | Fairlead - Bronze 4" - 1 pair | Tarnished but otherwise these are in very good condition. Two pairs | 2 | 7 | 14 | AOA | | A179 | SOLD | 25 | Norfolk Boat Jumblr | 202,304 | | |
| 0 | | DeckFittings | 26,T,F,31 | Fairlead - Bronze 8" pair | Good condition | 2 | 8 | 16 | AOA | | A179 | SOLD | 25 | Norfolk Boat Jumblr | 202,304 | | |
| 0 | | DeckFittings | 26,T | Forehatch - varnished | Forehatch - in excellent varnished condition with hatch | 1 | 40 | 40 | AOA | | A179 | Yes | | | | | |
| 0 | | DeckFittings | 26,T | Forehatch Clamp Fittings | Forehatch wing nut/hinged bolt clamps including angled tufnol bearing blocks | 4 | 6 | 24 | AOA | | A179 | Yes | | | | | |
| 0 | | DeckFittings | 26,T | Forehatch hinge | Forehatch hinge in bronze | | 8 | 8 | AOA | | A179 | Yes | | | | | |
| 0 | | DeckFittings | 26 | Hatch - aft cabin | Aft cabin sliding hatch | | 30 | 30 | AOA | | A179 | Yes | | | | | |
| 0 | | DeckFittings | 26,T | Mainsheet horse 'legs' | Two wooden legs with bronze end fittings to raise mainsheet horse to act as boom gallows and clear aft cabin entrance | 2 | 15 | 30 | AOA | | A179 | Yes | | | | | |
| 0 | | DeckFittings | 26, T | Mainsheet horse bronze mounting brackets pair | Mainsheet horse brackets - pair. Four plates t | 4 | 5 | 20 | AOA | | A179 | Yes | | | | | |
| 0 | | DeckFittings | 26,T | Mainsheet horse missing the knurled nut on one slider | Mainsheet horse in very good condition. Track and sliders are in chromed bronze. Includes bronze plates and wooden blocks for mounting. | | 40 | 40 | AOA | | A179 | Yes | | | | | |
| 0 | | DeckFittings | 26,F,T,31 | Stanchion bases - new s/steel | Stainless stanchion bases Set of 6 | 6 | 5 | 30 | AOA | | A179 | Yes | | | | | |
| 0 | | DeckFittings | 26 | Stanchions and guardrails | Full set of guardrails.Each side is in two parts - two stanchions forward, one aft. Wire is galvanised | | 75 | 75 | AOA | | A179 | Yes | | | | | |
| 0 | | DeckFittings | 26,T,F,31 | Ventilators - deck | Circular ventilators | | 4 | 4 | AOA | | A179 | Yes | | | | | |
| 0 | | DeckFittings | 26,T,F | Winch - tufnol bottom action sheet x 2 | Winches, bottom action with handles. One has damage on base where handle fits - see photo. | | 15 | 15 | AOA | | A179 | Yes | | | | | |
| 0 | | DeckFittings | 26,T,F | Winch springs - s/steel for pawls | Winch springs - for tufnol sheet winches like E14. Pack of 4 | | 5 | 5 | AOA | | A179 | Yes | | | | | |
| 0 | | DeckFittings | 26, T | Windows - for hull | Window frames and perspex removed from aft cabin. One window has damage threads on frame and therefore those bolts have nuts | 2 | 10 | 20 | AOA | | A179 | SOLD | 17 | Chris Green | 202,210 | | |
| 0 | | Electrical | 26,T,F | Interior lights - glass dome | Original chromed brass glass dome lights. All appear functional. 4 unswitched available, separately. | 6 | 3 | 18 | AOA | | A179 | SOLD | 25 | Norfolk Boat Jumblr | 202,304 | | |
| 0 | | EngineSterngear | 26,T,F,31 | Exhaust gooseneck | Vetus gooseneck, plastic, fits on Atalanta transom | | 20 | 20 | AOA | | A179 | SOLD | 25 | Norfolk Boat Jumblr | 202,304 | | |
| 0 | | GenChandlery | 26,T,F,31 | Blocks - various | Various blocks and cleats | | 10 | 10 | AOA | | A179 | SOLD | 25 | Norfolk Boat Jumblr | 202,304 | | |
| 0 | | GenChandlery | 26,T,F,31 | Boat Hook - vgc | Good condition 6' timber boathook with galvanised business end | | 15 | 15 | AOA | | A179 | SOLD | 26 | Ted Baker | 202,305 | | |
| 0 | | GenChandlery | 26,T,F,31 | Clock and Barometer - Plastimo | Plastimo heavy brass clock and barometer set (4") | | 20 | 20 | AOA | | A179 | SOLD | 24 | Doug Odgers | 202,303 | | |
| 0 | | GenChandlery | 26,T,F,31 | Coat hook - three hook, brass | Coat hook - three hook, brass | | 5 | 5 | AOA | | A179 | SOLD | 25 | Norfolk Boat Jumblr | 202,304 | | |
| 0 | | GenChandlery | 26, T | Compass - Contest Bulkhead, illuminated, good condition | Bulkhead compass good condition including cover | | 50 | 50 | AOA | | A179 | Disposed | 26 | Disposed | 202,308 | | |
| 0 | | GenChandlery | 26,T,F,31 | Echo sounder - Seafarer | Seafarer analogues (rotating) echo sounder | | 2 | 2 | AOA | | A179 | SOLD | 25 | Norfolk Boat Jumblr | 202,304 | | |
| 0 | | GenChandlery | 26,T,F,31 | Fire blanket | Fire Blanket | | 2 | 2 | AOA | | A179 | SOLD | 25 | Norfolk Boat Jumblr | 202,304 | | |
| 0 | | GenChandlery | 26,T,F,31 | Fire extinguisher | Fire extinguisher - needle in green on dial but old | | 1 | 1 | AOA | | A179 | SOLD | 25 | Norfolk Boat Jumblr | 202,304 | | |
| 0 | | GenChandlery | 26,T,F,31 | Kettle - high efficiency | Kettle high efficiency | | 10 | 10 | AOA | | A179 | SOLD | 25 | Norfolk Boat Jumblr | 202,304 | | |
| 0 | | GenChandlery | 26,T,F,31 | Lifebelt, mount & Light | Horseshoe lifebelt with mounting frame and floating light. | | 18 | 18 | AOA | | A179 | SOLD | 25 | Norfolk Boat Jumblr | 202,304 | | |
| 0 | | GenChandlery | 26,T,F,31 | Motoring cone and Fog Horn | Collapsible motor sailing cone and 'manual' fog horn | | 10 | 10 | AOA | | A179 | SOLD | 25 | Norfolk Boat Jumblr | 202,304 | | |
| 0 | | GenChandlery | 26,T,F,31 | Oil lamp - glass missing | Oil lamp - glass missing | | 10 | 10 | AOA | | A179 | SOLD | 25 | Norfolk Boat Jumblr | 202,304 | | |
| 0 | | GenChandlery | 26,T,F,31 | Pushpit rail | Pushpit in 1" stainless. Will require shaped blocks to mount feet | | 60 | 60 | AOA | | A179 | Yes | | | | | |
| 0 | | GenChandlery | 26,T,F,31 | Signal Lamp Navy pattern (similar Aldis) | Signalling lamp in apparently good condition with coloured lens filters | | 25 | 25 | AOA | | A179 | SOLD | 25 | Norfolk Boat Jumblr | 202,304 | | |
| 0 | | Interior | 26 | Cabin table with folding legs | Timber cabin table in vgc. Has two sets of legs which allow mounting in cabin and cockpit. Includes plates to mount on washboards / cabin bulkhead | | 25 | 25 | AOA | | A179 | Yes | | | | | |
| 0 | | Interior | 26 | Chart area locker tops | Lids for lockers under the chart table (against the hull) | | 5 | 5 | AOA | | A179 | Yes | | | | | |
| 0 | | Interior | 26 | Cooker gimbal mounts | Original cooker gimbal bolts and nuts. | | 5 | 5 | AOA | | A179 | Yes | | | | | |
| 0 | | Interior | 26 | Cooker hood to protect deckhead | Metal hood shaped to fit under the curved deck over the galley. Some corrosion but perfectly serviceable | | 5 | 5 | AOA | | A179 | Disposed | | 2023 Disposed - damaged and difficult to store | | | |
| 0 | | Interior | 26 | Doors to under cockpit lockers | Doors to fit on rear of lockers under cockpit in the aft cabin | | 5 | 5 | AOA | | A179 | Yes | | | | | |
| 0 | | Interior | 26 | Galley locker tops | Lids for lockers under the galley (against the hull) | | 5 | 5 | AOA | | A179 | Yes | | | | | |
| 0 | | Interior | 26 | Galley shelves | Set of galley shelves | | 5 | 5 | AOA | | A179 | Yes | | | | | |
| 0 | | Interior | 26,T,F,31 | Lee cloth for bunk | Lee cloth for bunk, fixed by bunk front | | 5 | 5 | AOA | | A179 | Yes | | | | | |
| 0 | | Interior | 26,T,F,31 | Pencil rack | pencil rack | 1 | 2 | 2 | AOA | | A179 | Yes | | | | | |
| 0 | | Interior | 26,T | Shelves aft cabin - original Fairey | Shelves aft cabin - original Fairey | 2 | 5 | 10 | AOA | | A179 | SOLD | 21 | R James | 202,211 | | |
| 0 | | Interior | 26,T | Shelves main cabin - original Fairey | Shelves - original - for cabin that fit to sloping bulkhead | 2 | 5 | 10 | AOA | | A179 | SOLD | 21 | R James | 202,211 | | |
| 0 | | Interior | 26 | Sink unit and cutlery tray, and chart table which fits over | Sink and frame in very good condition. Includes cutlery draw and chart table . Sink slides out from under table | | 40 | 40 | AOA | | A179 | SOLD | 23 | Aaron Todd | | | |
| 0 | | Interior | 26,T,F,31 | Taylors pressurised stove | Taylors pressurized paraffin stove with spare burner. Not tested and will need servicing | | 60 | 60 | AOA | | A179 | SOLD | 25 | Norfolk Boat Jumblr | 202,304 | | |
| 0 | | Interior | 26 | Floorboards - various | Floorboards - various | 8 | 5 | 40 | AOA | | A179 | SOLD | 23 | Aaron Todd | | | |
| 0 | | Interior | 26 | Under bunk locker lids - aft cabin port | Plywood locker lids under port berth in aft cabin | 2 | 5 | 10 | AOA | | A179 | Yes | | | | | |
| 0 | | Interior | 26 | Under bunk locker lids - aft cabin starboard | Plywood locker lids under starboard berth in aft cabin | 2 | 5 | 10 | AOA | | A179 | Yes | | | | | |
| 0 | | Interior | 26 | Under bunk locker lids - forecabin port | Plywood locker lids under port berth in forecabin | 2 | 5 | 10 | AOA | | A179 | Yes | | | | | |
| 0 | | Interior | 26 | Under bunk locker lids - forecabin starboard | Plywood locker lids under starboard berth in forecabin | 2 | 5 | 10 | AOA | | A179 | Yes | | | | | |
| 0 | | Keels | 26,T,F | Keel bolt alignment tool | Keel bolt alignment tool | | 10 | 10 | AOA | | A179 | SOLD | 26 | Ted Baker | 202,305 | | |
| 0 | | Keels | 26,T | Keel bolt covers in tufnol | Keel Bolt covers - plugs with clamp plates held by single clamp bolts | | 10 | 10 | AOA | | A179 | Yes | | | | | |
| 0 | | Keels | 26,T,F | Keel hoist handle | Scruffy hoist handles | 2 | 5 | 10 | AOA | | A179 | Yes | | | | | |
| 0 | | Keels | 26,T,F | Keel lifting screw jacks | Good very good condition screw jacks. | 2 | 25 | 50 | AOA | | A179 | Yes | | | | | |
| 0 | | Plumbing | 26,T,F,31 | Bilge pump - Whale Gusher 8 | Whale Gusher 8 pump. The pump is no longer available but service kits are. This pump including its diaphragm are in very good unused condition. | | 15 | 15 | AOA | | A179 | SOLD | 23 | Aaron Todd | | | |
| 0 | | Plumbing | 26, T | Tank - water, shaped, stainless | Stainless water tank in good condition. Shaped to fit in bilge just aft of cockpit forward bulkhead | | 20 | 20 | AOA | | A179 | Yes | | | | | |
| 0 | | Plumbing | 26,T,F,31 | Water filler bronze | Water tank filler in bronze | | 5 | 5 | AOA | | A179 | Yes | | | | | |
| 0 | | RigRigging | 26 | Boom (26) in aluminium | Original aluminium boom in excellent condition | | 45 | 45 | AOA | | A179 | SOLD | 18 | Aaron Todd | 202,210 | | |
| 0 | | RigRigging | 26 | Bronze bottlescrews & toggle plates | Original style bottlescrews with stainless toggle plates from shrouds | 6 | 2 | 10 | AOA | | A179 | SOLD | 18 | Aaron Todd | 202,210 | | |
| 0 | | RigRigging | 26 | Chainplates - short | Short chainplates (outside) and backing plates | | 15 | 15 | AOA | | A179 | Yes | | | | | |
| 0 | | RigRigging | 26 | Headsail Roller Reefing | Headsail roller reefing foil and drum. The forestay within will need replacing | | 20 | 20 | AOA | | A179 | SOLD | 18 | Aaron Todd | 202,210 | | |
| 0 | | RigRigging | 26 | Mast - aluminium 3/4 rig | Mast - aluminium 3/4 rig in good condition. Rigging will need replacing | | 140 | 140 | AOA | | A179 | SOLD | 18 | Aaron Todd | 202,210 | | |
| 0 | | Sails | 26,T | Genoa - Furling | Genoa used on furling gear. Note has no UV strip. Sail is in good serviceable condition | | 45 | 45 | AOA | | A179 | SOLD | 18 | Aaron Todd | 202,210 | | |
| 0 | | Sails | 26 | Mainsail - Jeckles vgc | Good condition with plastic sliders for aluminium mast groove. In good condition. | | 140 | 140 | AOA | | A179 | SOLD | 18 | Aaron Todd | 202,210 | | |
| 0 | | Sails | 26,T | Mainsail boom cover | White vinyl mainsail cover. In good condition | | 20 | 20 | AOA | | A179 | SOLD | 23 | Aaron Todd | | | |
| 0 | | Sails | 26,T | Spinnaker | UNCHECKED. Includes (old) sheets | | 25 | 25 | AOA | | A179 | Yes | | | | | |
| 0 | | Steering | 26,T | Rudder pintle from skeg | Aluminium rudder pintle from skeg. Serviceable. | | 10 | 10 | AOA | | A179 | Yes | | | | | |
| 0 | | Steering | 26,T | Rudder pivot bold | Pivot bolt in stainless - large diameter | | 15 | 15 | AOA | | A179 | Yes | | | | | |
| 0 | | Steering | 26,T | Rudder stock | Showing some signs of corrosion and plates separating. Could perhaps be repaired. | | 10 | 10 | AOA | | A179 | Yes | | | | | |
| 0 | | Steering | 26,T | Steering turning blocks | Pulleys for steering wires | 2 | 5 | 10 | AOA | | A179 | SOLD | 23 | Aaron Todd | | | |
| 0 | | Steering | 26,T | Steering wires, yoke and tensioner | Steering wires, yoke and tensioner | | 15 | 15 | AOA | | A179 | Yes | | | | | |
| 0 | | Steering | 26,T | Top Rudder bearing | Bearing pintle in good condition | | 10 | 10 | AOA | | A179 | Yes | | | | | |
| 0 | | Steering | 26,T | Whipstaff bearing | Good bearing | | 40 | 40 | AOA | | A179 | Yes | | | | | |
| 0 | | Steering | 26,T | Whipstaff tiller | Very Good condition wooden tiller. | | 20 | 20 | AOA | | A179 | Yes | | | | | |
| 0 | | Woodwork | 26 | Aft cabin washboard with vent | Washboard in good condition with vent | | 15 | 15 | AOA | | A179 | Yes | | | | | |
| 0 | | Woodwork | 26 | Main hatch washboards | Atalanta main hatch washboards in three parts. Good condition but requires varnishing | | 30 | 30 | AOA | | A179 | Yes | | | | | |
| 0 | | GenChandlery | 26 | Various small parts | Out of date charts, anchor ball, woodenbox, various screws and bolts | | 30 | 30 | AOA | | A179 | SOLD | | Nick Phillips | | | |
| 0 | | GenChandlery | 26 | Various small parts | Blister and its windows / hatch | | 30 | 30 | AOA | | A179 | SOLD | | Mike Dixon | | | |
| 0 | | GenChandlery | 26 | Various small parts | ?? | | | 0 | AOA | | A179 | SOLD | | Richard James | | | |
| 0 | | GenChandlery | 26 | Various small parts | Flag pole, furling line fairleads | | 24 | 24 | AOA | | A179 | SOLD | 24 | Jim Sumberg | | | |
| 0 | | Miscellaneous | | Small parts, anchor ball | Small parts, anchor ball | | 25 | 25 | AOA | | A179 | SOLD | | Nick Phillips | 202,210 | | |
| 0 | | Miscellaneous | | Blister and small parts | Blister and small parts | | 20 | 20 | AOA | | A179 | SOLD | | Mike Dixon | 202,210 | | |
| 0 | | Miscellaneous | | Cabin shelves | Forecabin and Aftcabin shelves | | | 0 | AOA | | A179 | SOLD | | Richard James | 202,210 | | |
| | | | | | | | | 0 | AOA | | | | | | | | |
| | | | | | | | | 0 | AOA | | | | | | | | |
| | | | | | | | | 0 | AOA | | | | | | | | |
| | | | | | | | | 0 | AOA | | | | | | | | |
| | | | | | | | | 0 | AOA | | | | | | | | |
| | | | | | | | | 0 | AOA | | | | | | | | |
| | | | | | | | | 0 | AOA | | | | | | | | |
| | | | | | | | | 0 | AOA | | | | | | | | |
| | | | | | | | | 0 | AOA | | | | | | | | |
| | | | | | | | | 0 | AOA | | | | | | | | |
| | | | | | | | | 0 | AOA | | | | | | | | |
| | | | | | | | | 0 | AOA | | | | | | | | |
| | | | | | | | | 0 | AOA | | | | | | | | |
| | | | | | | | | 0 | AOA | | | | | | | | |
| | | | | | | | | 0 | AOA | | | | | | | | |
| | | | | | | | | 0 | AOA | | | | | | | | |
| | | | | | | | | 0 | AOA | | | | | | | | |
| | | | | | | | | 0 | AOA | | | | | | | | |
| | | | | | | | | 0 | AOA | | | | | | | | |
| | | | | | | | | 0 | AOA | | | | | | | | |
| | | | | | | | | 0 | AOA | | | | | | | | |
| | | | | | | | | 0 | AOA | | | | | | | | |
| | | | | | | | | 0 | AOA | | | | | | | | |
| | | | | | | | | 0 | AOA | | | | | | | | |
| | | | | | | | | 0 | AOA | | | | | | | | |
| | | | | | | | | 0 | AOA | | | | | | | | |
| | | | | | | | | 0 | AOA | | | | | | | | |
| | | | | | | | | 0 | AOA | | | | | | | | |
| | | | | | | | | 0 | AOA | | | | | | | | |
| | | | | | | | | 0 | AOA | | | | | | | | |
| | | | | | | | | 0 | AOA | | | | | | | | |
| | | | | | | | | 0 | AOA | | | | | | | | |
| | | | | | | | | 0 | AOA | | | | | | | | |
| | | | | | | | | 0 | AOA | | | | | | | | |
| | | | | | | | | 0 | AOA | | | | | | | | |
| | | | | | | | | 0 | AOA | | | | | | | | |
| | | | | | | | | 0 | AOA | | | | | | | | |
| | | | | | | | | 0 | AOA | | | | | | | | |
| | | | | | | | | 0 | AOA | | | | | | | | |
| | | | | | | | | 0 | AOA | | | | | | | | |
| | | | | | | | | 0 | AOA | | | | | | | | |
| | | | | | | | | 0 | AOA | | | | | | | | |
| | | | | | | | | 0 | AOA | | | | | | | | |
| | | | | | | | | 0 | AOA | | | | | | | | |
| | | | | | | | | 0 | AOA | | | | | | | | |
| | | | | | | | | 0 | AOA | | | | | | | | |
| | | | | | | | | 0 | AOA | | | | | | | | |
| | | | | | | | | 0 | AOA | | | | | | | | |
| | | | | | | | | 0 | AOA | | | | | | | | |
| | | | | | | | | 0 | AOA | | | | | | | | |
| | | | | | | | | 0 | AOA | | | | | | | | |
| | | | | | | | | 0 | AOA | | | | | | | | |
| | | | | | | | | 0 | AOA | | | | | | | | |
| | | | | | | | | 0 | AOA | | | | | | | | |
| | | | | | | | | 0 | AOA | | | | | | | | |
| | | | | | | | | 0 | AOA | | | | | | | | |
| | | | | | | | | 0 | AOA | | | | | | | | |
| | | | | | | | | 0 | AOA | | | | | | | | |
| | | | | | | | | 0 | AOA | | | | | | | | |
| | | | | | | | | 0 | AOA | | | | | | | | |
| | | | | | | | | 0 | AOA | | | | | | | | |
| | | | | | | | | 0 | AOA | | | | | | | | |
| | | | | | | | | 0 | AOA | | | | | | | | |
| | | | | | | | | 0 | AOA | | | | | | | | |
| | | | | | | | | 0 | AOA | | | | | | | | |
| | | | | | | | | 0 | AOA | | | | | | | | |
| | | | | | | | | 0 | AOA | | | | | | | | |
| | | | | | | | | 0 | AOA | | | | | | | | |
| | | | | | | | | 0 | AOA | | | | | | | | |
| | | | | | | | | 0 | AOA | | | | | | | | |
| | | | | | | | | 0 | AOA | | | | | | | | |
| | | | | | | | | 0 | AOA | | | | | | | | |
| | | | | | | | | 0 | AOA | | | | | | | | |
| | | | | | | | | 0 | AOA | | | | | | | | |
| | | | | | | | | 0 | AOA | | | | | | | | |
| | | | | | | | | 0 | AOA | | | | | | | | |
| | | | | | | | | 0 | AOA | | | | | | | | |
| | | | | | | | | 0 | AOA | | | | | | | | |
| | | | | | | | | 0 | AOA | | | | | | | | |
| | | | | | | | | 0 | AOA | | | | | | | | |
| | | | | | | | | 0 | AOA | | | | | | | | |
| | | | | | | | | 0 | AOA | | | | | | | | |
| | | | | | | | | 0 | AOA | | | | | | | | |
| | | | | | | | | 0 | AOA | | | | | | | | |
| | | | | | | | | 0 | AOA | | | | | | | | |
| | | | | | | | | 0 | AOA | | | | | | | | |
| | | | | | | | | 0 | AOA | | | | | | | | |
| | | | | | | | | 0 | AOA | | | | | | | | |
| | | | | | | | | 0 | AOA | | | | | | | | |
| | | | | | | | | 0 | AOA | | | | | | | | |
| | | | | | | | | 0 | AOA | | | | | | | | |
| | | | | | | | | 0 | AOA | | | | | | | | |
| | | | | | | | | 0 | AOA | | | | | | | | |
| | | | | | | | | 0 | AOA | | | | | | | | |
| | | | | | | | | 0 | AOA | | | | | | | | |
| | | | | | | | | 0 | AOA | | | | | | | | |
| | | | | | | | | 0 | AOA | | | | | | | | |
| | | | | | | | | 0 | AOA | | | | | | | | |
| | | | | | | | | 0 | AOA | | | | | | | | |
| | | | | | | | | 0 | AOA | | | | | | | | |
| | | | | | | | | 0 | AOA | | | | | | | | |
| | | | | | | | | 0 | AOA | | | | | | | | |
| | | | | | | | | 0 | AOA | | | | | | | | |
| | | | | | | | | 0 | AOA | | | | | | | | |
| | | | | | | | | 0 | AOA | | | | | | | | |
| | | | | | | | | 0 | AOA | | | | | | | | |
| | | | | | | | | 0 | AOA | | | | | | | | |
| | | | | | | | | 0 | AOA | | | | | | | | |
| | | | | | | | | 0 | AOA | | | | | | | | |
| | | | | | | | | 0 | AOA | | | | | | | | |
| | | | | | | | | 0 | AOA | | | | | | | | |
| | | | | | | | | 0 | AOA | | | | | | | | |
| | | | | | | | | 0 | AOA | | | | | | | | |
| | | | | | | | | 0 | AOA | | | | | | | | |
| | | | | | | | | 0 | AOA | | | | | | | | |
| | | | | | | | | 0 | AOA | | | | | | | | |
| | | | | | | | | 0 | AOA | | | | | | | | |
| | | | | | | | | 0 | AOA | | | | | | | | |
| | | | | | | | | 0 | AOA | | | | | | | | |
| | | | | | | | | 0 | AOA | | | | | | | | |
| | | | | | | | | 0 | AOA | | | | | | | | |
| | | | | | | | | 0 | AOA | | | | | | | | |
| | | | | | | | | 0 | AOA | | | | | | | | |
| | | | | | | | | 0 | AOA | | | | | | | | |
| | | | | | | | | 0 | AOA | | | | | | | | |
| | | | | | | | | 0 | AOA | | | | | | | | |
| | | | | | | | | 0 | AOA | | | | | | | | |
| | | | | | | | | 0 | AOA | | | | | | | | |
| | | | | | | | | 0 | AOA | | | | | | | | |
| | | | | | | | | 0 | AOA | | | | | | | | |
| | | | | | | | | 0 | AOA | | | | | | | | |
| | | | | | | | | 0 | AOA | | | | | | | | |
| | | | | | | | | 0 | AOA | | | | | | | | |
| | | | | | | | | 0 | AOA | | | | | | | | |
| | | | | | | | | 0 | AOA | | | | | | | | |
| | | | | | | | | 0 | AOA | | | | | | | | |
| | | | | | | | | 0 | AOA | | | | | | | | |
| | | | | | | | | 0 | AOA | | | | | | | | |
| | | | | | | | | 0 | AOA | | | | | | | | |
| | | | | | | | | 0 | AOA | | | | | | | | |
| | | | | | | | | 0 | AOA | | | | | | | | |
| | | | | | | | | 0 | AOA | | | | | | | | |
| | | | | | | | | 0 | AOA | | | | | | | | |
| | | | | | | | | 0 | AOA | | | | | | | | |
| | | | | | | | | 0 | AOA | | | | | | | | |
| | | | | | | | | 0 | AOA | | | | | | | | |
| | | | | | | | | 0 | AOA | | | | | | | | |
| | | | | | | | | 0 | AOA | | | | | | | | |
| | | | | | | | | 0 | AOA | | | | | | | | |
| | | | | | | | | 0 | AOA | | | | | | | | |
| | | | | | | | | 0 | AOA | | | | | | | | |
| | | | | | | | | 0 | AOA | | | | | | | | |
| | | | | | | | | 0 | AOA | | | | | | | | |
| | | | | | | | | 0 | AOA | | | | | | | | |
| | | | | | | | | 0 | AOA | | | | | | | | |
| | | | | | | | | 0 | AOA | | | | | | | | |
| | | | | | | | | 0 | AOA | | | | | | | | |
| | | | | | | | | 0 | AOA | | | | | | | | |
| | | | | | | | | 0 | AOA | | | | | | | | |
| | | | | | | | | 0 | AOA | | | | | | | | |
| | | | | | | | | 0 | AOA | | | | | | | | |
| | | | | | | | | 0 | AOA | | | | | | | | |
| | | | | | | | | 0 | AOA | | | | | | | | |
| | | | | | | | | 0 | AOA | | | | | | | | |
| | | | | | | | | 0 | AOA | | | | | | | | |
| | | | | | | | | 0 | AOA | | | | | | | | |
| | | | | | | | | 0 | AOA | | | | | | | | |
| | | | | | | | | 0 | AOA | | | | | | | | |
| | | | | | | | | 0 | AOA | | | | | | | | |
| | | | | | | | | 0 | AOA | | | | | | | | |
| | | | | | | | | 0 | AOA | | | | | | | | |
| | | | | | | | | 0 | AOA | | | | | | | | |
| | | | | | | | | 0 | AOA | | | | | | | | |
| | | | | | | | | 0 | AOA | | | | | | | | |
| | | | | | | | | 0 | AOA | | | | | | | | |
| | | | | | | | | 0 | AOA | | | | | | | | |
| | | | | | | | | 0 | AOA | | | | | | | | |
| | | | | | | | | 0 | AOA | | | | | | | | |
| | | | | | | | | 0 | AOA | | | | | | | | |
| | | | | | | | | 0 | AOA | | | | | | | | |
| | | | | | | | | 0 | AOA | | | | | | | | |
| | | | | | | | | 0 | AOA | | | | | | | | |
| | | | | | | | | 0 | AOA | | | | | | | | |
| | | | | | | | | 0 | AOA | | | | | | | | |
| | | | | | | | | 0 | AOA | | | | | | | | |
| | | | | | | | | 0 | AOA | | | | | | | | |
| | | | | | | | | 0 | AOA | | | | | | | | |
| | | | | | | | | 0 | AOA | | | | | | | | |
| | | | | | | | | 0 | AOA | | | | | | | | |
| | | | | | | | | 0 | AOA | | | | | | | | |
| | | | | | | | | 0 | AOA | | | | | | | | |
| | | | | | | | | 0 | AOA | | | | | | | | |
| | | | | | | | | 0 | AOA | | | | | | | | |
| | | | | | | | | 0 | AOA | | | | | | | | |
| | | | | | | | | 0 | AOA | | | | | | | | |
| | | | | | | | | 0 | AOA | | | | | | | | |
| | | | | | | | | 0 | AOA | | | | | | | | |
| | | | | | | | | 0 | AOA | | | | | | | | |
| | | | | | | | | 0 | AOA | | | | | | | | |
| | | | | | | | | 0 | AOA | | | | | | | | |
| | | | | | | | | 0 | AOA | | | | | | | | |
| | | | | | | | | 0 | AOA | | | | | | | | |
| | | | | | | | | 0 | AOA | | | | | | | | |
| | | | | | | | | 0 | AOA | | | | | | | | |
| | | | | | | | | 0 | AOA | | | | | | | | |
| | | | | | | | | 0 | AOA | | | | | | | | |
| | | | | | | | | 0 | AOA | | | | | | | | |
| | | | | | | | | 0 | AOA | | | | | | | | |
| | | | | | | | | 0 | AOA | | | | | | | | |
| | | | | | | | | 0 | AOA | | | | | | | | |
| | | | | | | | | 0 | AOA | | | | | | | | |
| | | | | | | | | 0 | AOA | | | | | | | | |
| | | | | | | | | 0 | AOA | | | | | | | | |
| | | | | | | | | 0 | AOA | | | | | | | | |
| | | | | | | | | 0 | AOA | | | | | | | | |
| | | | | | | | | 0 | AOA | | | | | | | | |
| | | | | | | | | 0 | AOA | | | | | | | | |
| | | | | | | | | 0 | AOA | | | | | | | | |
| | | | | | | | | 0 | AOA | | | | | | | | |
| | | | | | | | | 0 | AOA | | | | | | | | |
| | | | | | | | | 0 | AOA | | | | | | | | |
| | | | | | | | | 0 | AOA | | | | | | | | |
| | | | | | | | | 0 | AOA | | | | | | | | |
| | | | | | | | | 0 | AOA | | | | | | | | |
| | | | | | | | | 0 | AOA | | | | | | | | |
| | | | | | | | | 0 | AOA | | | | | | | | |
| | | | | | | | | 0 | AOA | | | | | | | | |
| | | | | | | | | 0 | AOA | | | | | | | | |
| | | | | | | | | 0 | AOA | | | | | | | | |
| | | | | | | | | 0 | AOA | | | | | | | | |
| | | | | | | | | 0 | AOA | | | | | | | | |
| | | | | | | | | 0 | AOA | | | | | | | | |
| | | | | | | | | 0 | AOA | | | | | | | | |
| | | | | | | | | 0 | AOA | | | | | | | | |
| | | | | | | | | 0 | AOA | | | | | | | | |
| | | | | | | | | 0 | AOA | | | | | | | | |
| | | | | | | | | 0 | AOA | | | | | | | | |
| | | | | | | | | 0 | AOA | | | | | | | | |
| | | | | | | | | 0 | AOA | | | | | | | | |
| | | | | | | | | 0 | AOA | | | | | | | | |
| | | | | | | | | 0 | AOA | | | | | | | | |
| | | | | | | | | 0 | AOA | | | | | | | | |
| | | | | | | | | 0 | AOA | | | | | | | | |
| | | | | | | | | 0 | AOA | | | | | | | | |
| | | | | | | | | 0 | AOA | | | | | | | | |
| | | | | | | | | 0 | AOA | | | | | | | | |
| | | | | | | | | 0 | AOA | | | | | | | | |
| | | | | | | | | 0 | AOA | | | | | | | | |
| | | | | | | | | 0 | AOA | | | | | | | | |
| | | | | | | | | 0 | AOA | | | | | | | | |
| | | | | | | | | 0 | AOA | | | | | | | | |
| | | | | | | | | 0 | AOA | | | | | | | | |
| | | | | | | | | 0 | AOA | | | | | | | | |
| | | | | | | | | 0 | AOA | | | | | | | | |
| | | | | | | | | 0 | AOA | | | | | | | | |
| | | | | | | | | 0 | AOA | | | | | | | | |
| | | | | | | | | 0 | AOA | | | | | | | | |
| | | | | | | | | 0 | AOA | | | | | | | | |
| | | | | | | | | 0 | AOA | | | | | | | | |
| | | | | | | | | 0 | AOA | | | | | | | | |
| | | | | | | | | 0 | AOA | | | | | | | | |
| | | | | | | | | 0 | AOA | | | | | | | | |
| | | | | | | | | 0 | AOA | | | | | | | | |
| | | | | | | | | 0 | AOA | | | | | | | | |
| | | | | | | | | 0 | AOA | | | | | | | | |
| | | | | | | | | 0 | AOA | | | | | | | | |
| | | | | | | | | 0 | AOA | | | | | | | | |
| | | | | | | | | 0 | AOA | | | | | | | | |
| | | | | | | | | 0 | AOA | | | | | | | | |
| | | | | | | | | 0 | AOA | | | | | | | | |
| | | | | | | | | 0 | AOA | | | | | | | | |
| | | | | | | | | 0 | AOA | | | | | | | | |
| | | | | | | | | 0 | AOA | | | | | | | | |
| | | | | | | | | 0 | AOA | | | | | | | | |
| | | | | | | | | 0 | AOA | | | | | | | | |
| | | | | | | | | 0 | AOA | | | | | | | | |
| | | | | | | | | 0 | AOA | | | | | | | | |
| | | | | | | | | 0 | AOA | | | | | | | | |
| | | | | | | | | 0 | AOA | | | | | | | | |
| | | | | | | | | 0 | AOA | | | | | | | | |
| | | | | | | | | 0 | AOA | | | | | | | | |
| | | | | | | | | 0 | AOA | | | | | | | | |
| | | | | | | | | 0 | AOA | | | | | | | | |
| | | | | | | | | 0 | AOA | | | | | | | | |
| | | | | | | | | 0 | AOA | | | | | | | | |
| | | | | | | | | 0 | AOA | | | | | | | | |
| | | | | | | | | 0 | AOA | | | | | | | | |
| | | | | | | | | 0 | AOA | | | | | | | | |
| | | | | | | | | 0 | AOA | | | | | | | | |
| | | | | | | | | 0 | AOA | | | | | | | | |
---