Welcome to the Fairey Marine Atalanta Owners Association
The Fairey Atalanta Owners Association exists in support of the Fairey Marine yachts and their owners. If this is your first visit to the site, the About page provides an overview of and links to the content of the site.
Take part in the discussions. If you like what you see why not become a Member of the Fairey Atalanta Owners Association for full access to our Archive including drawings, papers and individual boat details? Join the AOA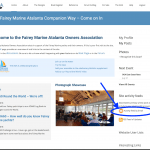 17/06/2018
AOA Website Site Activity Feed – updates emailed to you so that you never miss a post, blog or comment.
07/04/2018
Please add our Fairey yacht trips to our AOA60 Log Book to help us get round the World.
Recent Boat Blog Posts
11/07/2018 Nick Phillips
A1 travelled from Market Harborough to Brightlingsea for Mark Butler, of James Lawrence sails, to measure her up for new sails. This meant Mike was able to prove his tow car, ...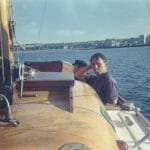 11/07/2018 Mark Urry
Major Robin Shinkwin was apparently the second owner of F8 "Iona". The photo shows Him on A5 " Diaphony" on a cruise down to St Malo, with my Father, myself ...
11/07/2018 Mark Urry
Spotted in Marans near La Rochelle by no less than two local Fulmar fans ! Looking good, very good!
10/07/2018 AOA
A1's keel plates and hoist have been completely refurbished. The lifting gear is of interesting design – the same principle was used in the production Atalantas but the original has cables ...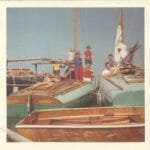 09/07/2018 Mark Urry
A48 was launched as "ATALA" and was originally owned by John A. Strubbe FRIBA, his wife and children . Interestingly it was John who was responsible for the Black Night ...
03/07/2018 AOA
Mike's new sails are to be made by famous sailmaker Jimmy Lawrence, of Brightlingsea.  The loft insist on measuring the boat themselves. So all Mike has to do is get ...
03/07/2018 AOA
Mike bought Kotora's old trailer and heavily refurbished it.  It is of an interesting design, quite different to others I have seen.  It has central supports for the keel and ...
03/07/2018 AOA
A1 Atalanta has been tucked up in her workshop for the last 18 months after rescue from a garden in Essex. Mike (Dixon) has achieved an amazing amount of progress ...
15/06/2018 Simon Weston-Jones
          Back in the depth of winter my wife Lara announces that she is taking part with my eldest daughter in the annual diving club trip ...
15/06/2018 Peter Keightley
I found these images of A104 Arosa whilst looking for something entirely different and thought they might be of interest.