30/09/2023
Swallow Yachts has produced stylish and practical water-ballasted yachts for many years. The wood-epoxy construction, rig options, performance and performance have made them popular. And this year they have re-interpreted the brief that Alan Vines laid out for Fairey Marine and Uffa Fox: A fast, trailable, seaworthy family cruising yacht. The Bay ...
28/10/2022
If you use the AOA Website regularly you will have noticed a big change to the Home Page. Below are some thoughts which might help you understand the changes. Why has it changed? The change is primarily to reduce the clutter of the AOA Home Page for new visitors. ...
26/06/2022
Atalantas attract attention wherever they go. To help publicise the boats and the AOA the Association have suggested a template to display boat details for use in Marinas and alongside. These are designed for printing at A3. They can printed and heavily laminated or printed on foam boards. They can then ...
20/03/2022
20 Members and friends attend the 2022 AGM meeting and lunch. It was great to be holding another 'In Person' meeting after last year's was 'virtual' due to Covid-19.  Of course, Covid-19 was still a concern and care was taken to minimise the risks. The Minutes, Secretary and Treasurer Reports ...
16/07/2021
Triggered by some recent (unsuccessful) attacks on the site we have updated the way people can request an account. It is now more manual than before. This does not affect existing users of the website. At the same time we have bundled a number of other changes which we hope ...
17/05/2021
While most of our thorough Spring Clean was about keeping the site working smoothly there have been some functional improvements too. The 'Images' page now includes the Boat sail number in the gallery The Registers have been refreshed and checked against our latest information Removal of formatting errors throughout the site And, thanks to ...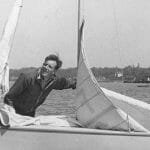 20/12/2020
Celebrate the designs, work and life of Uffa Fox with sailing, racing, fun and Uffa history in Cowes over a weekend in 2022, the 50th anniversary year of his death
12/10/2020
With the recent scrapping of T4 Brother Jack and A154 Deeanie the AOA now have a large number of secondhand parts available for owners. You can access the list through the 'For Sale' page. Notable items in the parts available include: 3/4 rig wooden mast in apparently good condition with ...
10/06/2020
Despite the gradual easing of lockdown restrictions in the UK (and specifically in England), planned events for the Association have taken a significant hit.  We got away with holding the AGM in February, but since then no planned activities have taken place.  Thanks to the hard work of the Webmaster, ...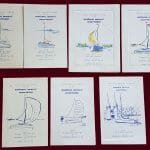 02/04/2020
Dinner menu and attendance cards for the first seven Annual Dinners – Atalanta Owners know how to enjoy themselves! These cards were kindly donated by the sone of an ex-owner.
10/03/2020
Given the unprecedented concern and coverage of the Covid 29 virus spread and the actions that are being considered by governments across the world, it only seems appropriate to outline the Association's current position.  I say current, because the situation is changing rapidly; just last night, the Italian government effectively ...
02/03/2020
Storm Jorge didn't manage to keep 22 of us from The Tamesis Sailing club, even passing through quickly so that we could bask in the sunshine during the AGM and lunch. The Thames flowed fast (within the banks, thankfully) as did the tea! It was great to ...
22/12/2019
I would like to apologise to all of our readers for the non-availability of the website in the past few days. A small change triggered some unexpected impacts on the site. I have now resolved the issues and spent time to ensure the security and operation of the site is ...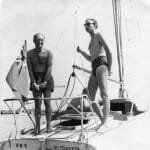 28/11/2019
UPDATED 28/11 after input from Hanneke Boon of Wharram Designs, including updates to Aku's boat page Further to the article in November the December issue of Classic Boat includes an endorsement of the Atalanta's capabilities from James Wharram. (James started designing and circling the world with affordable and seaworthy catamarans ...
27/11/2019
A number of you highlighted difficulties in adding photos to your blog entries. With apologies for it having been a bit messy I have now made it more reliable. Or should I say I think I have – please do come back to me if you still have issues.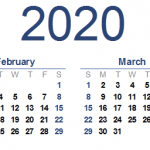 07/11/2019
Subscriptions for 2020 are due by 1st January. At the 2019 AGM in March it was agreed to simplify our subscription rates. There is now a flat rate of £20 for all Subscriptions are now £20 for everyone, regardless of how you pay and where you live. Your interest and subscriptions are what ...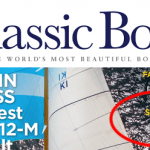 29/10/2019
It started with a conversation at the Suffolk Yacht Harbour Classic Regatta in June this year. In the bar. Peter Smith, art editor for Classic boat was taking part with his 8-ton Gauntlet Bardu. We got into conversation about boats (what else) and Atalantas. We suggested that the Atalanta would make a ...
07/08/2019
The final programme for the East Coast get together and race as part of the Regatta is now available. Check it out here It would be great to see as many of you as possible, in a boat or ashore.
20/06/2019
New Styling, Pages and Navigation (menu) Options Yes, the website looks different. Responding to feedback we have tried to make it easier to find things on the website. In particular you will notice: Colours and styling have been darkened to (hopefully) make things easier to read The Home Page Layout has been ...
21/05/2019
The cold weather took a welcome break and the sun shone in Bristol on 11th May for our meet-up at the Underfall Yard in the Bristol Floating Harbour.  There was a pretty unanimous view that it was a great day at a pretty special place.  Twenty or so of us ...
04/03/2019
The 2019 AGM was a great success with 27 Members and friends attending the meeting and lunch. The Minutes, Secretary and Treasurer Reports will be published for Members in the Spring Newsletter. In the meantime below are some photos of the event and the prizegiving. Thanks again to the Tamesis Club ...
29/01/2019
Although the wind, snow, rain and frost are still with us I am sure most of us are planning our Summer activities. Why not make room in your diaries to get together with other Fairey Marine yacht owners and fanciers? You can find details of all AOA events (open to members and ...
13/11/2018
This page details all archive and website updates by the date they were made – scroll down to review. Feedback on the site and ideas for improvements are always welcome – please use the 'Contact Us' page. New material has been loaded to the archive and there have some technical updates. ARCHIVE MATERIAL ...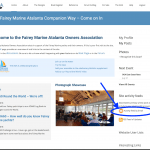 17/06/2018
AOA Website Site Activity Feed – updates emailed to you so that you never miss a post, blog or comment.
02/04/2018
The AOA0 Challenge is live – have a go, get on the leaderboard, and maybe learn some new facts about the Fairey Marine Yachts.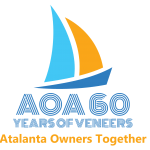 03/03/2018
Check out, and Join in our celebration of 60 years.

02/12/2017
Welcome to the new 2018 AOA Website
22/04/2017
The Association have contributed to an article in Classic Sailor about Atalantas this month. Dan Houston's Classic Sailor magazine is an excellent publication – thoroughly recommended. Check it out at http://classicsailor.com.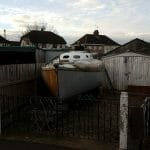 11/02/2017
Great news for Fred and the Association – Toco Axxx has a new home. We wish the new owner good fortune in the restoration and hope to follow progress over the coming months.
23/01/2017
The 2017 AOA AGM was well attended with 26 people representing xxx boats. We discussed…. We had a great lunch with much talk of adventures new, old and future. And so on