UPDATED 28/11 after input from Hanneke Boon of Wharram Designs, including updates to Aku's boat page
Further to the article in November the December issue of Classic Boat includes an endorsement of the Atalanta's capabilities from James Wharram. (James started designing and circling the world with affordable and seaworthy catamarans in the nineteen fifties – see wharram.com).
Commenting on the November article he recalls meeting the crew of A113 Aku (the boat that set off around the world) in Las Palmas. James is very complimentary about Uffa Fox and and the Atalanta.
As a result of the letter our Secretary made contact with Hanneke Boon at Wharram Designs who provided further photos of Aku in Las Palmas. Hanneke noted that Ruth Wharram, James' wife who took the photos, had followed Aku's progress and knew that the boat had reached the Galapagos. We were able to complete the story about how she was sold to a hotel owner in the Galapagos, fell into dis-repair, was rescued by sheathing in Burlap (a type of hessian) and Arabol and subsequently wrecked in 1990. (See A113's boat page and Bulletins for 1961-62 and 1980-81).
The letter is reproduced below with Hanneke's permission and the photographs have been added to A113's Blog. As an aside you may also be interested to follow some of James' recent exploits on his website wharram.com, and read about how he reintroduced his polynesian designs to the Polynesia at www.tikopia.org and https://www.wharram.com/site/articles/lapita-voyage.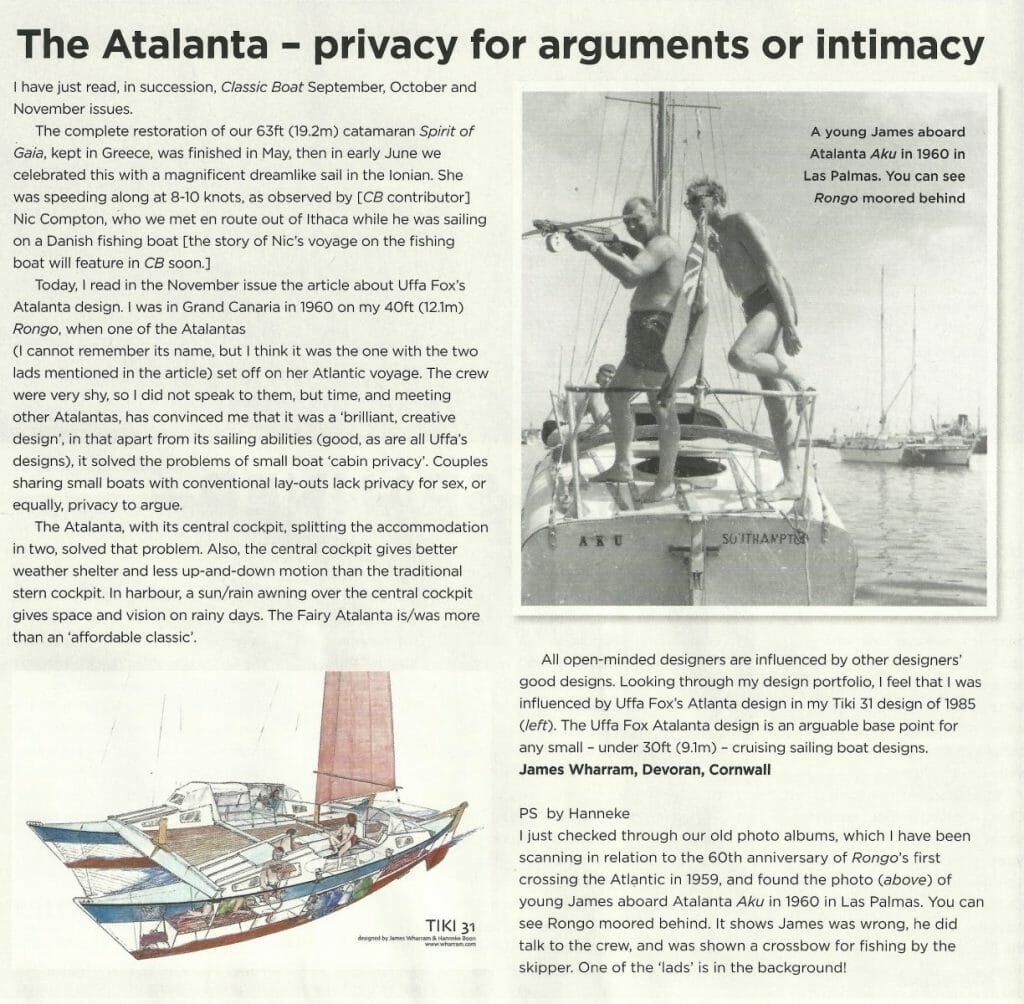 Excellent!
These are the photos Hanneke provided.