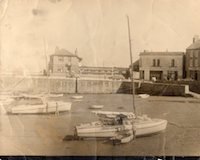 Simon Garratt
Participant
Trevor,
I did think about sending the details. They have done a good job but it has taken a long time – they seem busy and it was a small job and certain machines were set up and in constant use. To balance and in fairness sorting the exact grade of aluminium & supplier was the biggest issue time wise.
If you do use them I would recommend sending them the old rudder & drawings.
http://congleton-engineering.co.uk/
I dealt with Rory but I think he will still be on holiday next week – 01260 279647.
All the best with it & keep us updated.
Regards,
Simon