Richard James
Keymaster
As a former SAAB owner, I'm interested in the company's history and products.
Following the Second World War, Fairey transferred their superb aircraft design and manufacturing skills to make Atalanta wooden yachts.
In Sweden, SAAB used their superb aircraft design and manufacturing skills to make cars as well as aircraft.
SAAB was formed in 1937 in Sweden, as an aeroplane manufacturer to provide planes for the Swedish Air Force, just as Europe was steeling itself for another war. The company's full name was Svenska Aeroplan Aktiebolaget, giving the world the acronym Saab. The head office moved to the Swedish university town of Linköping. It was there in 1945, amid various dreams of diversification, that a project to develop motor cars got underway.
The Saab car project was called Project 92, as 92 was the next number in the production sequence after Saab 91, the Safir, a single engine trainer aircraft. SAAB's cars actually owed a great debt to SAAB aeroplane design. The company's aircraft engineers thought they could use their knowledge of aerodynamics from aircraft manufacturing to improve the performance compared to that of the German cars that were on the market in Sweden at the time.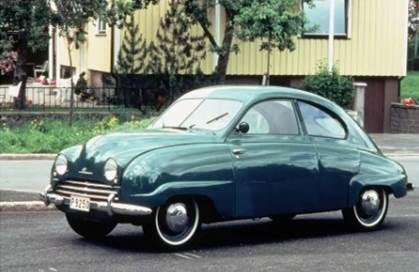 SAAB 92                                                                                     Morris Minor
The SAAB 92 went on sale in 1950 and was designed from a clean sheet of paper. It was a unique little car. Its aviation background led to a streamline appearance which was shaped in the company's wind tunnel. Its drag coefficient was 0.30, which is considered excellent even by today's standard. The SAAB 92 was one of the first mass production cars to feature space-saving front-engine and front-wheel-drive. This not only allowed its cabin to have a flat floor but also gave the car superior traction and safe handling.