Welcome to the Fairey Marine Atalanta Owners Association
The Fairey Atalanta Owners Association exists in support of the Fairey Marine yachts and their owners. If this is your first visit to the site, the About page provides an overview of and links to the content of the site.
Take part in the discussions. If you like what you see why not become a Member of the Fairey Atalanta Owners Association for full access to our Archive including drawings, papers and individual boat details? Join the AOA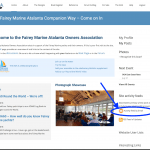 17/06/2018
AOA Website Site Activity Feed – updates emailed to you so that you never miss a post, blog or comment.
07/04/2018
Please add our Fairey yacht trips to our AOA60 Log Book to help us get round the World.
Recent Boat Blog Posts
15/06/2018 Simon Weston-Jones
          Back in the depth of winter my wife Lara announces that she is taking part with my eldest daughter in the annual diving club trip ...
15/06/2018 Peter Keightley
I found these images of A104 Arosa whilst looking for something entirely different and thought they might be of interest.
07/06/2018 AOA
A144 CYN For Sale - € 1500 / offers
29/05/2018 AOA
As part of the continuing transfer of the AOA archives online I came across this note from the RONA Trust about Moyra's first owner Lord Amroy, and Moyra's role in ...
29/05/2018 AOA
Atalanta 26 for sale – A161 Amber Ellen. Based near Ullapool Amber Ellen is offered with a trailer and some interesting modifications including wheel steering. With varnished hull and decks ...
21/05/2018 AOA
Atalanta 26 A9 Ereina is for sale. Ereina is part way through a restoration interrupted due to move to sailing a catamaran. She is out of the water in South ...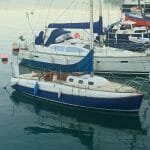 06/05/2018 Robbie Cormie
A138 picture in Guernsey 5th May 218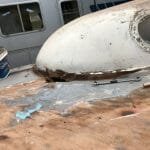 03/05/2018 AOA
Our Secretary Richard has been on his travels, sailing tupperware yachts and popping in on unsuspecting Atalanta Owners. Richard visited Chris Berry in Truro. Chris has taken on A117 Turtle – ...
22/03/2018 Chris Green
Above: 100W "Fuji Wave" panel – delivers a high voltage with exceptional low light energy capture. Mid afternoon March last w/e measured input was 300V+.These are designed for commercial solar ...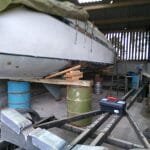 06/03/2018 Bernard Marshall
Today, the 5th March 2018, A86 was moved on her trailer and repositioned in the barn so that all round access was possible. Many thanks to Mike Dixon for coming ...