Welcome to the Fairey Atalanta Owners Association
The Fairey Atalanta Owners Association exists in support of the Fairey Marine yachts and their owners. If this is your first visit to the site, the About page provides an overview of and links to the content of the site.
Learn about the Fairey Atalanta designs. Browse the boat registers and blogs. Take part in the discussions.
If you like what you see why not become a Member of the Fairey Atalanta Owners Association for full access to our Archive including drawings, papers and individual boat details? Join the AOA
Recent Boat Blog Posts
2018-01-13 Fairey Mary
I have driven past Genoa and La Spezia a number of times and although the west of Genoa has some beautiful driving roads.  Well they were before they filled them ...
2018-01-10 Fairey Mary
We , and I say we, because our Nick joined me, had a delay before we could get into the water.  So we spent the day in Florence drinking stupidly ...
2018-01-07 Fairey Mary
After leaving Bosa I decided the next overwintering would be Pisa.  I would go up the eastern side of Corsica and head to the mainland.  I think the distances around ...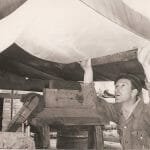 2018-01-04 Richard James
A photo record of Bernard Upton building Colchide in 1958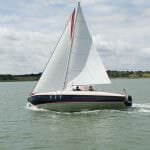 2017-12-15 Richard James
COLCHIDE   Bernard Upton bought an Atalanta kit, hull number 104, directly from Fairey Aviation, Hamble on 25 November 1958 for £2800 and had it delivered to Cambs. The hull was built ...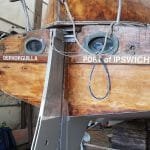 2017-12-12 AOA
A16 Dervorguilla gets a makeover at Pin Mill. A Mark 1 Atalanta Devorguilla is still in remarkable condition despite her age. There are quite a few interesting differences: The aft-cabin is longer, ...
2017-12-10 Chris Green
Missed the bulletin deadline this year, so thought I would add this blog of the ongoing work on Kerry Piper A169. Working on the basis of KP launch in 2018, need ...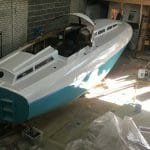 2017-12-09 AOA
So today was the day that all the prep has paid off. I hope the colour gets the nod. When I stripped off the old black paint, I found some of ...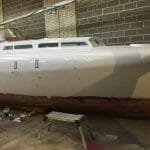 2017-12-09 nick runeckles
I thought I'd better drop in the latest news on the Zambra project, as it's been a while. I've made some good progress over the last few weeks, including: Finishing all the ...
2017-11-26 AOA
Christopher Perkins has put Noggin up for sale. She has had a great deal of work done by professional boatbuilder Alan Staley. Lying in Faversham, with an excellent trailer. Contact details christopher.perkins ...
[/tx_row]>