Calista will be spending May and June sailing in the Adriatic.
The plan is:
Leaving Pembrokeshire on Easter Monday, driving through the channel tunnel, Germany and Austria to launch on 25/03/14 in norhtern Italy.
Week 1 27/04/2014 to 3/05/2014
San Giorgio di Nogaro to Zadar direct distance about 150 miles
Week 2 3/05/2014 to 10/05/2014
Zadar to Dubrovnik direct distance about 150 miles
Week 3 10/05/2014 to 17/05/2014
Dubrovnik to Sarande (Albania) about 150 miles
Week 4 17/05/2014 to 24/05/2014
Sarande to Dubrovnik about 150 miles
Week 5 24/05/2014 to 1/06/2014
Dubrovnik to Split about 80 miles direct
Week 5 24/05/2014 to 1/06/2014
Split to Zadar about 100 miles direct
Week 7 7/06/2014 to 14/06/2014
Zadar to Mali Losinj direct distance about 100 miles
Week 8 14/06/2014 to 21/06/2014
Mali Losinj to San Giorgio di Nogaro about 120 miles
Recover onto trailer and drive home.
A number of AOA members will be joining me at various times during the trip. I hope to be able to add to this blog as the trip progresses!
Getting there and Back
We have always used the ferry in the past but since you can no longer pay in full using tesco vouchers for the ferry, but you can for Eurotunnel, the choice was easy – we have booked the tunnel!
On previous trips we have travelled via France, and the Mont Blonc tunnel. The motorways in France are good – not crowded, but the tunnel is single track each way. The tunnel may be only a few miles long but it is pretty unpleasant. A long time ago we used the Germany, Austria, Tourn tunnel route. We found the German autobarnes crowded, and at that time the tunnel was also one lane each way in a shared tunnel, and after the tunnel it was a short well engineered motorway down to the coast where we launch Calista. Going via Mont blonc also means that there is a long day spent travelling across northern Italy – on pretty busy motorways.
So this time we are going well before the holiday season, and the Tourn tunnel is now two seperate tunnels, and two lanes each way, so we will give that route another go.
Getting breakdown cover
Breakdown cover is difficult when you tow a large trailer! The best we can do is to use the Caravan club "Red Pennant" service, which is expensive for what we are doing – it is intended to cover a caravan touring holiday and provide replacement car or caravan to allow the holiday to continue. They can't provide a replacement trailer if there is a major problem with that, but they will try not to leave us stranded on a motorway!
Overnight stops
As we will be joining the caravan club to get the breakdown cover we will spend the first night in a Caravan club campsite near Folkstone. We hope to complete the European leg of the land journey in three days. So my next job is to work out where to look for campsites in Germany for two nights.
Continued 16/04/14
It is now less than a week to go before we set off. Everything is booked and organised. The shuttle was booked a long time ago, and now insurance for boat, car, and breakdown cover has all been organised. The camp site near Folkstone has also been bookerd for ages, and I have identified a campsite near Cologne, and another near Munich – but I am not going to book them. I am sure they will not be full! That also leaves the opportunity for stopping else where if we want to.
So the first day in Europe will mean 200 miles driving (getting to Calais at 12.00), and the other 2 days will be 350 miles. That does not seem many miles but previous experience suggests that when motorway cruising at 50 to 55 miles an hour, the average speed will be about 35 miles per hour.
Maintenance
Calista is now ready to be brought out of the workshop. There was nothing serious to be done during the winter – just routine maintenance and a few "improvements". The metalwork which supports the keels around the diagonal bulkhead has been cleaned and painted, and refitted with new bolts made from A4 stainless rod, which was much cheaper than buying ready made bolts.
I repainted part of the main cabin while I was at it.
Calista has quite a lot of varnishwork, transom, cabin top, mast boom, spinnaker pole, toe rails and  rubbing strakes. It has all been sanded and given 2 coats of traditional varnish. Renewing the surface of the varnishwork every year (renewing the UV resistance) does seem to keep the varnishwork in good order – and seems particularly important this year when it will be exposed to mediteranean sun for 2 months.
I also striped repaired and repainted the hatch over the aft cabin.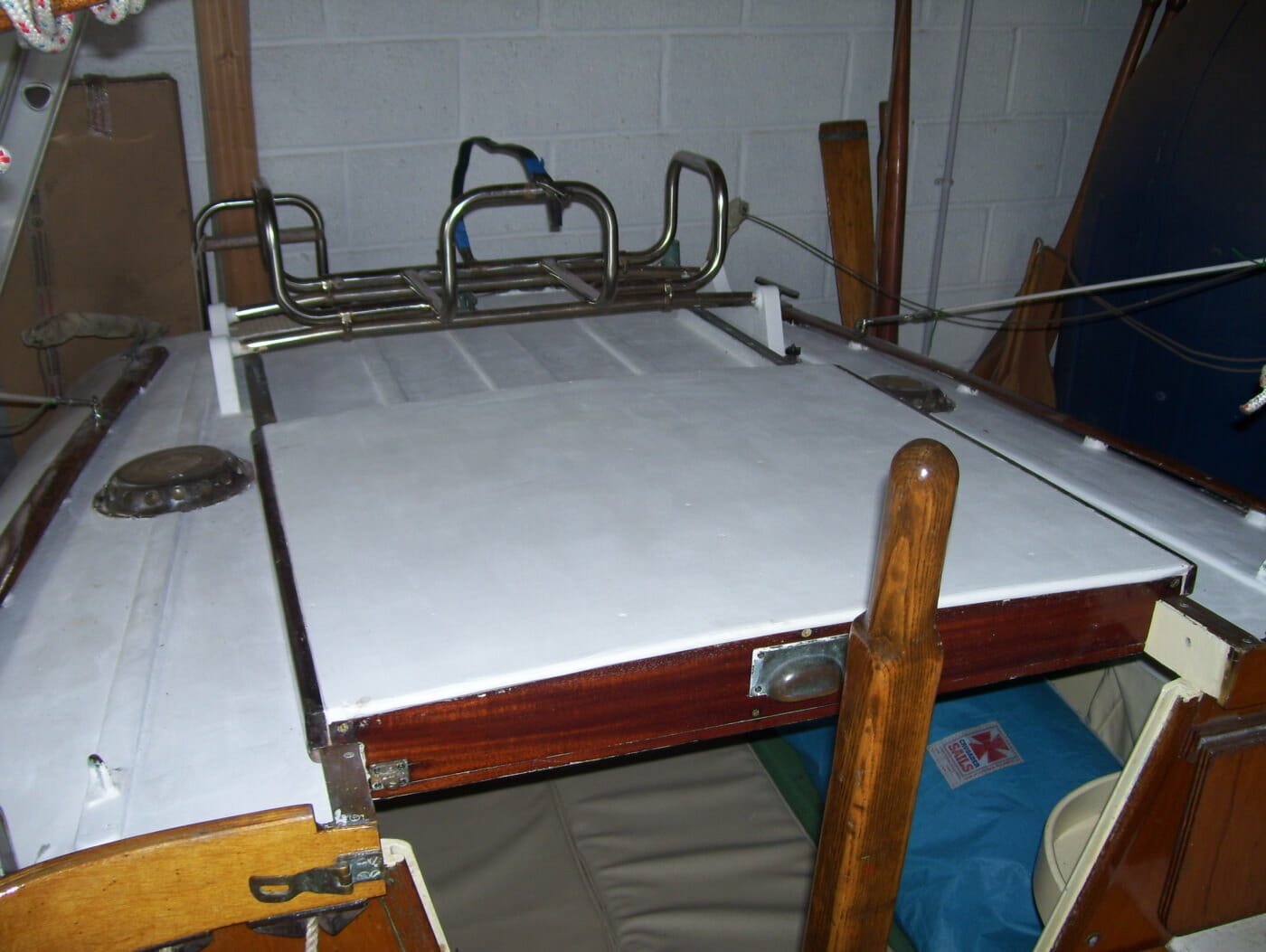 I found that the rudder blade did not quite lower all the way in the new rudder stock, so I have taken the opportunity to modify the shape of the bottom of the stock slightly, and recoat it with epoxy, and coppercoat. I have also fitted a rectangle of rubber to take the thump as the rudder blade drops fully down.
The safety equipment also got a good going over with new fire extinguishers, lifejackets and other bits and pieces. I even got around to painting the name onto the liferings!
One maintenance task which I am really pleased with was to "T Cut" the perspex windows. They are about 6 years old and just becoming dull, and showing the early signs of crazing. Polishing them using a pad on a vibrating saw has made a huge difference. You can actually see through them now. I am sure that I will have to replace them again in a few years time but polishing seems to work well for now.
Changes specifically for the mediteranean
This isnt Calista's first trip to Croatia so many of the things specifically needed are already in place. For example we will be launching in the lagoons between Venice and Trieste – and they are full of mosquitoes. So we already have fly screens for every hatch and companionway. We will also take repelant.
We already have a bimini covering the cockpit. On previous trips we used the canvas covers from another boat to act as awnings. This time I have made a set specially for Calista. They zip onto the front and back of the Bimini, in three sections. They can cover the 85% of the decks  – if they are all in use. I dont expect to use them that often – but it can get very hot towards the end of Junewhen tied up in big cities, so they are there in case.
Calista has a 30 watt flexible solar panel, and I have added a fixed 20 watt panel this winter.  I am going to fit it on top of the life raft, tied to the liferaft cradle. Well that is the idea. Hopefully the liferaft can be pushed out from under the solar panel if needed. We will see! The hope is that the extra watts will power the fridge fully – so that we don't discharge the battery at anchor. We also have LED bulbs fitted into the original cabin lights. They are certainly very bright and use little current. I would have fitted an LED bulb to the anchor light at the top of the mast – but I cant get it apart to change the bulb!
We have a cockpit tent which is formed by zipping sides onto the bimini. I suspect that we might want this in the early part of the cruise so I have added windows into the sides and back – just to make it a bit more pleasant to sit under.
Stores
I am resisting the temptation to load up with food here in the UK. It is tempting – I think it will be more expensive in Italy and Croatia – but everything which goes on has to be dragged over the alps. So it is really just the food for the road trip, and things like tea coffee, etc which is going on. I will take some tins (which can be used to make meals if we cant reach a shop for a while) but they are all in the back of the car. I am trying to keep the weight in the boat down during the road trip.
Just clothes to add.
So tomorow Calista can be withdrawn from the workshop, and I am just going to polish the topsides with the "T Cut" again and then fit the tie down straps ready for Monday 21st when we set off.
To be continued…..