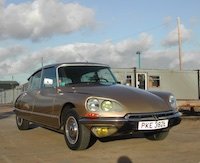 Nick Phillips
Participant
Not that its my boat….. but yes.  The jib sheet is turned through the fixed block to the winch.  Do you have  roller headsail? Or change sails very often? If you do and can find a way to make your track work it is much preferable in terms of sailing performance – the angle of the sheet between block and sail clew needs to be different to get the right shape in the sail.
(I suspect that the U-bolt slightly above and forward of the fixed block may be used on Achates as an alternative lead)
What is wrong with your track?
The image below is the setup on Helene.  It does require a bit of shockcord to stop the block swinging around….