This topic contains 4 replies, has 4 voices, and was last updated by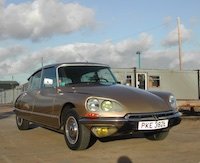 Nick Phillips 1 year, 5 months ago.
Author

Posts

Fairey Mary

Participant

On Monday Nick gave me a hand to pick up Mary's new/old trailer from Jonathan.  I have to say a big thanks for the help.  I had forgotten (or was never aware) of the light board not to mention a couple of other nieve mistakes that I would have made without their help.

The trailer is now at levington waiting for me to lift Mary out.  I hope to give it a lick of paint before then.  I think I am going for hammerite red.  Driving a grey trailer on the M25 in the rain makes you appreciate the visibility of any other colour.

I also have to say that the countryside is very nice and both Nick and I left with shed envy.  A60 is in beautifully original condition, it is great to see similarities in the minor details with Mary.

Thanks again and I hope to post pictures when I have finished painting it.

AOA

Keymaster

It was a great couple of days.  no pictures of that shed, but some of A60

Fairey Mary

Participant

Your pictures are significantly better than mine.  Sad thing is I cannot remember seeing you take any.  Mine turned out badly.

T12

Participant

Great images of the boat. Nice pile of fire wood too!!

One question, is that fixed block for running the jib sheet up to the winch?

I have a sliding track for the block and it is a bit of a complicated mess. I was thinking of a fixed replacement.

Nick Phillips

Participant

Not that its my boat….. but yes.  The jib sheet is turned through the fixed block to the winch.  Do you have  roller headsail? Or change sails very often? If you do and can find a way to make your track work it is much preferable in terms of sailing performance – the angle of the sheet between block and sail clew needs to be different to get the right shape in the sail.

(I suspect that the U-bolt slightly above and forward of the fixed block may be used on Achates as an alternative lead)

What is wrong with your track?

The image below is the setup on Helene.  It does require a bit of shockcord to stop the block swinging around….

Author

Posts
You must be logged in to reply to this topic.