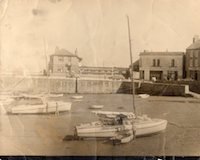 Simon Garratt
Participant
Murray, Tim
Many thanks for both your responses – it's really appreciated. Now that I have seen Murray's photos and have managed to get my spare apart (though it's not in as good a condition as I had hoped) I am less concerned about the one on Gambol failing.
I still can't get the one off Gambol despite lots of heat, freeing spray, oil and blows with a lump hammer.
I will have another go at the end of the season (I think I will end up cutting it off) and put up with the excessive play – I have wasted enough time on it for now!
Many thanks again,
Simon