This topic contains 4 replies, has 3 voices, and was last updated by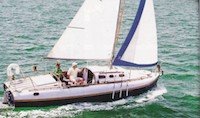 Chris Green 11 months, 2 weeks ago.
Author

Posts

Jonathan Reynolds

Participant

Goof afternoon. Happy 60th to all our great Atalanta's. A60s steering failed to answer this afternoon and it seems to relate to the whipstaff bearing shaft having let go. We fortunately managed to limp to a mooring. The quadrant arm no longer moves with the tiller. Please can I talk to anyone who has had one of these apart. I remember reading somebodies account and the job sounds difficult from a corrosion perspective so hints and tips would be much appreciated. Also does anyone know of any spares salvaged from boats that might help in replacement please? Many thanks Jonathan Reynolds

Jonathan Reynolds

Participant

Just following my earlier post, an update.  It transpires that the weld between the quadrant and shaft has failed.  This made the removal of all from the bulkhead bearing very easy.  I've also now found the previous post on the shaft collar removal tips so will follow those rather than them being repeated.  Any thoughts on the weld failure though?  The steering has been stiff for a while through friction in the system and particularly the rudder fittings end but I am surprised that's stressed this weld enough to fail.  All the best. Jonathan

AOA

Keymaster

Jonathan
So many reactions to your post.
Very glad Achates is active – A60 active in our 60th year!
Embarassed at the indexong on the site – should have been easier for you to find answers. Note to self for winter months.
Sorry to hear about the failure. Not sure this common – others may know better?

And glad you have got it apart.

As to spare parts Ian Pollard is an obvious 'Go To' but i fear he has just left the country (nothing to do with you problems…)

Not sure if parts are still around from T12? (Another note to self to pull this all together on the site). Trevor Thompson might be a good person to contact – email via website or numbers/details in Yearbook.

Fingers crossed for a speedy resolution.
Nick

Chris Green

Participant

Hello Jonathan

You have probably inspected everything already, but have attached a photo of the dismantled assembly from A169 – dismantled as part of the rebuild. Anyway – an odd thing to happen.

Hope you get it sorted soon.

Chris

Chris Green

Participant

Hi again Jonathan – just been thinking about it and remember that the metal sleeve was particularly difficult to remove from the shaft. Recall using an oversized wrench; engineer's vice and heat application to the sleeve to free it off from the shaft.

Author

Posts
You must be logged in to reply to this topic.