This topic contains 4 replies, has 3 voices, and was last updated by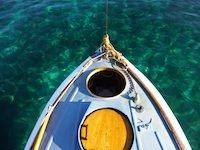 Fairey Mary 4 years, 11 months ago.
Author

Posts

Fairey Mary

Participant

At the end of 2013 I bought a tarpaulin which has done very well for keeping the sun off Mary.  It was a little short leaving a few inches exposed at the end.  I am pretty sure I can notice some fading in the paint where exposed.

However I think it has done its job and next year I hope that she will spend most of her time in the water.

With this in mind I would like a full cover that ties down to the toe rail.  I would probably use this when at anchor to keep the sun off the deck and hopefully make it a bit cooler inside.  This will mostly be for UV as I feel it a good investment in avoiding painting.

I am thinking of having this done in three sections with large zips joining them.  Covering foredeck, cockpit and aftdeck.  The aft-deck would require that the boom mount is up, I also need to think that at mooring I may be stern to.  The foredeck could use the spinnaker poll, from the mast to the bow, to support it.

Does anybody have any suggestions, patterns, existing covers.  Also as I am likely to get this done on the east coast (ipswich) would anybody mind if I used their Atalanta as a model.  I can't just nip over and take another measurement.

If a pattern is made I will donate it to the library.

colin twyford

Participant

A95 is ashore and just covered, you are welcome to come and measure, it is a fair distance but quite close to the Dartford Crossing at Erith Yacht Club, DA8 2AD.

Give me a call if you wish to come.

Colin 

Trevor Thompson

Participant

It is a good ides to have a cover like this for the med.  I have one which is very similar to that you are describing. In my case it zips onto the front and back of the Bimini, in three sections. One aft, one to the mast and one in front of the mast.

 

Best wishes

 

Trevor

Trevor Thompson

Participant

Just occured to me that you might need to be careful using another boat as a patern. They might not be the same. Try to find one with a number close to Fairey Mary to minimise the risk of there being differences.

Also you might want to think about a Bimini. Not as easy to do on an Atalanta as on a Titania because you have a bigger cockpit. The main problem will be keeping it low enough to clear the boom. I raised the boom on my boat (to reduce the risk to children, who are now adults), but it does make it easier to add the Bimini.

 

Fairey Mary

Participant

The problem is more about when I am not there.  Remember she gets to enjoy the sunny climate far more than I do.

Author

Posts
You must be logged in to reply to this topic.