This topic contains 5 replies, has 5 voices, and was last updated by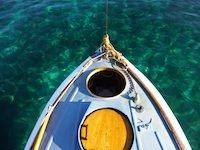 Fairey Mary 1 year ago.
Author

Posts

Richard James

Keymaster

A89 Colchide went back into the water at Levington yesterday, which got us wondering if there are any other Atalantas or their derivatives on the water and sailing yet, in this our 60th anniversary year – 2018?

We believe Murray Reid is still working on A87 in NZ and we are waiting to hear back from owners in the southern states of the USA and Croatia. We believe the boats in Canada and Austria won't be on the water yet.

Nick Phillips

Participant

Well done Richard. Early April is a great achievement! And just in time for the sun too.

How's that new prop?

Paul Jones

Participant

Brother Jack is still in the water from last year albeit without sails at the moment but by the end of next week they will reinstated and out to do some shakedowns on her.

Also need to do a bit of a hull scrub so might find a nice sandbank mid solent to drop onto for a bit of a low tide scrub off 🙂

Cheers

Paul

Fairey Mary

Participant

Mary is about to go back in.  I went out and 'slapped' paint on the bits I can't get at easily.  By which I sanded back and put a couple of coats over the incident with the bouy.  But the application of copper anti-foul where the keels had hit the bottom was less precise.

T12

Participant

Harrier is back in the water as of last weekend and set to cruise the South West. The shakedown trip to Cawsand in Plymouth Sound went well although I managed to foul my own tender's painter in a crowded anchorage, luckily a bright foredeck crew member got the hook back out sharpish!

There is a the odd job still to complete when afloat but she is in better shape again this year so the work must be paying off!

Happy sailing all and I look forward meeting some of the AOA this year.

Fairey Mary

Participant

Has your dog got competent crew?  Do you think it can teach mine some boat handling skills.  I would be happy with the ability to tack, or even take a line when needed.

Author

Posts
You must be logged in to reply to this topic.