This topic contains 5 replies, has 6 voices, and was last updated by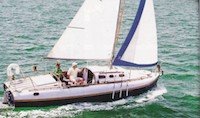 Chris Green 6 months, 1 week ago.
Author

Posts

Richard James

Keymaster

I spotted this obituary in The Times today for Barbara Calder who dies at the end of January. An amazing lady, Barbara Calder had many claims to sailing fame. This included owning A49 Terrapina now ably restored by David Gray and still in Scotland. By all accounts you would not have wanted to be on the roads in Scotland when they were starting their season according to this extract from the Obituary:

"Hamish recalled his mother's sense of adventure. In the Summer she would take them sailing in her 26ft Atalanta yacht, Terrapina. The boat was towed South with its sail up on the motorway but Calder took care to avoid bridges."

The Obituary is well worth a read for Barbara Calder's exploits. Read it on The Times website here.

AOA

Keymaster

Wow. What a lady.

The history of our boats is littered with amazing characters and personalities – hopefully we can pull out a few for the AOA60-60-60  as part of our 60th Anniversary celebrations. Maybe Barbara Calder will qualify.

Cheers

Nick

Simon Weston-Jones

Participant

Well I'm amazed , I didn't know that.

I have been a family friend of the Calders for many years , sailing quite a few times with hamish's brother george and his daughter Mairi calder when over in Tanzania. Mairi has been over to stay with us in France quite a few times and I've been pushing for her to come sailing in Solone ,

pehaps I never mentioned my new boat was an Atalanta . Ive forwarded this to Mairi and George . Maybe they can come up with some old family pics !!!

Nick Phillips

Participant

Simon – What a small world it is!  I hope you get them out on Solone. And also that you have a great season with Solone in 2018!

Terrapin

Participant

I have Terrapin now she will sail again soon I am very interested in any history or storys

Thanks ray

Chris Green

Participant

Author

Posts
You must be logged in to reply to this topic.