This topic contains 3 replies, has 4 voices, and was last updated by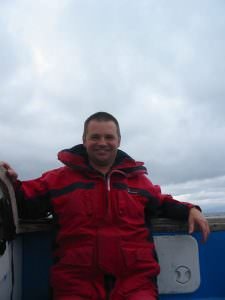 Dominic Dobson 1 year, 4 months ago.
Author

Posts

Fairey Mary

Participant

Well Mary is out of the water now and looking good on her new trailer.  However the recent wind has done some damage to her fine cover.  So this time I decided to make the repairs myself.  Having discovered that I could… also as it is in tune with A169 Cockpit Cover story I thought I would share.

I like my cover, as much as I like putting off painting.  I feel it is and was worth the money I paid for it.  It has many hours of work not to mention experience and skill.  But there are a couple of things, particularly when this one gets too tired, I wish to make the next myself.  I also found it difficult getting the cover made in the first place, I figure the big 'makers' look at an Atalanta and think that the 'margin' to complexity ratio is too weighted in the latter.

Either way they are very expensive…

The repairs I need to make aren't complex, there are a couple of short rips (about 1″ max).  But the bigger issue is that I wanted to add more tying on points particularly around the base now that I have a trailer to tie it to.

I must admit I hadn't made the best use of the existing tie on points so I also wanted to make it easier to do this.

Some of the barriers I felt stopped me from just making the cover was what materials to use and could my sewing machine deal with it.  I am sure I am not the first person to buy a host of supplies only to find I cannot use them because I lacked skill or equipment…

I found a reasonable supplier profabrics / point north so I am going to use their links to discuss parts, (We gain nothing from this shameless promotion 🙂 ).  I think the cover fabric is PU coated Acrylic, see the match of the patch above.  My plan is to use shockcord hooks to the ties that are under the canvas to hook to the toe rail.  This was the plan all along but I didn't have the hooks.  This has the benefit of me being able to put the cover on in the marina.  I ended up not using all of the existing tie points, the result is that the cover sagged and eventually ripped one of the ties off.  I have now gone along the outside and added small tie points (as above) for use when on the trailer.  I will probably just use rope to tie these down and ensure the cover is tight over winter.  The hanging skirt works but I like these additional tie points to ensure a tighter cover when on the trailer.

I can bring samples next week if anybody is interested.  But the important thing for me is that my old household sewing machine is able to sew the cover and probably 4 layers of nylon webbing admittedly it struggles at times and I have to spin up the wheel by hand sometimes.

Trevor Thompson

Participant

You might find www.kayospruce.com useful. They supply sailmaking materials to the trade, but they also supply small quantities retail.

Nick Phillips

Participant

Hi Alistair

Well done for cracking on with this one. I have used http://www.acorncanvas.com to good effect for covers I made for my Broads Cruiser.  Dont forget that Orwell Yacht Club have a 'sail loft' and machine in their 'sail loft' for use by members.

The additional tie-downs will help – a key for covers is to prevent pooling of water on the top.

I still thing your cover is fantastic and am planning to replicate (in two parts – fore and aft).
The other thing word considering is a tape or shockcord around the 'gunwhale' perimeter . This is how all those dinghy covers yours is modelled on resist the wind……

Or you could have something slightly more difficult to fold up  as in the picture…..

Dominic Dobson

Participant

I've found that using tent repair companies provides the cheapest option when getting canvas work done they don't add the its for a yacht % that always seems to happen when you want anything associated with a boat

Author

Posts
You must be logged in to reply to this topic.