This topic contains 3 replies, has 3 voices, and was last updated by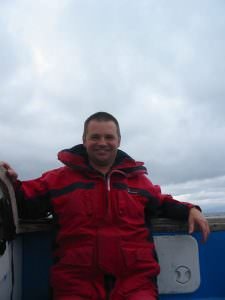 Dominic Dobson 1 year, 4 months ago.
Author

Posts

AOA

Keymaster

The ability of the internet to link people together is great and a primary reason for the AOA website.
Earlier this week I was George Gaisse got in touch through the website contact form. He was the second owner of A35 'Christian Mary' between 1959 and 1964. He was enquiring for the whereabouts of A35 now. He had last heard of her in 1998 when the 'Basse Sous Marine'. The story that is unfolding (some of which has always been in the AOA archives and is now available in the new website) was fascinating to me, so I thought I would share it. We don't have the whole picture yet but this is what we know so far.

After George sold A35 she was owned by Brussels based owners until sold to Bernard Blaire in France who renamed her to 'Scherzo'. A35 sailed from the River Ouse in the eighties and took part in the 1987 Cherbourg Race. Bernard put her up for sale and she was bought by the newly formed 'Conservatoire de Plaisance' in Bordeaux. This museum was based in the old U-boat submarine pens.

See this Press Release for the opening of the museum in 1993.

The museum was started by nautical historian Daniel Charies and Jean-Bertrand Mothes Masse. They assembled over 70 boats including A35, Vendredi 13, the oldest European catamaran, and Crossbow II. This photo from A35's Blog page was taken from her mooring in the pens.

You may interested to look at these two videos. Some duplication between then but look out for A35 at 1'32" in the first and 3'08" in the second:

Unfortunately the museum was not a success and closed in 1997. In 1998 the owners attempted to contact the previous owners of the boats, or their families, to give them back. This is when the Basse Sous Marine contacted George to inform him of the repairs they had done, presumably as part of trying to sell her.

We have no records from this point which indicate what happened to A35. Investigations have shown that some of the boats languished in the pens well beyond 1998 before the final twenty were sold off in 2014 as part of redevelopment of the site. Interestingly Blondie Hasler's junk rigged 'Sumner' had sunk and was the subject of a major campaign to refloat and restore her. You may find the following links interesting:

History of the U-boat base http://journals.openedition.org/insitu/9526
2014 redevelopment of the area including new maritime museeum http://www.bassins-a-flot.fr/
Town Hall sell of the last 20 boats: http://www.sudouest.fr/2014/04/28/la-ville-vend-ses-epaves-1537744-2780.php
Vendredi 13 bought as exhibit for new museum: https://rue89bordeaux.com/2016/04/vendredi-13-le-legendaire-voilier-reprend-vie/
The rescue attempts on Hasler's 'Sumner': http://www.sudouest.fr/2013/02/07/le-voilier-du-major-hasler-victime-d-un-coup-de-vent-959227-2780.php

We are continuing to research what may have happened to A35.
If anyone can add anything to this story please do reply to this post.

Dominic Dobson

Participant

doesn't really help with where she is now but back in the early 90s when on a cycle tour from St Malo to Bordeaux and return, I called into the museum during the visit I saw the Atalanta and got talking with one of the staff about my interest in Atalantas. He asked us on board proceeded to scull her out into the harbour and left myself and 1st wife to sail around just asking us to ensure that we tied her up well once we'd finished. Its a shame that the museum failed as they wanted the exhibits to be living rather than static pieces.

Nick Phillips

Participant

Dom. That sounds like my sort of museum.  Perhaps the freedom of access was part of the problem?  Were the pens as dark and dank as they look in the videos?

And that sounds like some bike tour!

Dominic Dobson

Participant

Nick,

yes the parts that hadn't been used to exhibit pieces were just as the video one pen contained a submarine (1960 version I think) that you could walk around to get an idea of the realities of life for the submariner.

the bike tour was the start of some epics

600 miles across Iceland

Lhasa to Kathmandu via Everest basecamp

Following the Trans Alaska pipeline Prudhoe bay to Valdis down the haul road as featured on Ice Road Truckers

The ex was a real adventurer who came up with some wild ideas that I was tasked with making happen

Dom

Author

Posts
You must be logged in to reply to this topic.