Read about the Fairey Titania design on this page.  The Titania is based on the 26 hull with slightly more freeboard and longer coachroof.  See brochures and details of the design and also how to get the best from the boat.
You may also be interested to see these other pages about the Titania: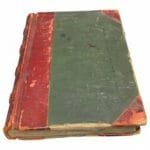 Register and Boat Histories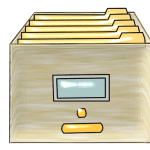 AOA Documents & Drawings

Titanias For Sale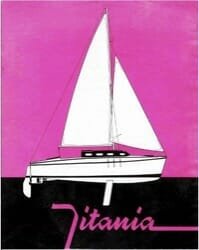 Titania Brochures & Ads
Titania Specification
Length 26ft.
Beam 7'9″
Draught 1'6″ – 5'9″
Freeboard forward 3'8″
Freeboard aft 2'6″
Headroom under coach roof 6'2″
Mainsail 135 sq. ft.
Foresail 85 sq. ft.
Genoa 115 sq. ft.
Most boats have an inboard engine.
Twin drop keels each weigh 475lbs (215kg), winched by hand
Lifting rudder
Displacement 2 tons
Sleeps 4 in two cabins, with quarter berths for 2 extra
The Titania is a modified Atalanta 26, described by Fairey Marine as "intended for the owner who planned to spend more time cruising under power and who wanted more main cabin space".
The overall length and maximum beam are identical to those of the Atalanta 26, as are the underwater lines, twin retracting keels and lifting rudder, but the freeboard forward is increased by six inches giving headroom of 6ft 2in in the forward cabin. Greater space in this part of the boat is achieved by reducing the length of the cockpit from 6ft to 4ft.
The main cabin layout is altered to give two full size berths forward and two quarter berths running back under the cockpit seats at the aft end. There is a galley on the starboard side and a large hanging cupboard on the port side. The after cabin had two full-size quarter berths.
The standard engine supplied with a Titania was a Fairey marinised Ford 102E petrol motor developing 20 bhp at 2000 rpm with a consumption of 1.25 gallons per hour at 7 knots. Twenty gallons of fuel were carried in two 10-gallon tanks and 24 gallons of fresh water were also carried in two tanks. The yacht thus had a good cruising range under power.
An ordinary Atalanta mast is used, but the foot of the mainsail is shortened somewhat reducing the main sail area by about 20 sq ft. The headsails are the same as those of the Atalanta 26.
Please note that the articles below relate to the unique aspects of the Titania – for a full picture you should also read the Atalanta 26 page most of which applies equally to the Titania.
Atalanta 26
There are three Fairey Marine tenders to complement the Atalanta series of yachts. The Dinky This is an 8 ft long dinghy. Constructed in the same way as the Atalanta, hot moulded<a class="moretag" href="https://atalantaowners.org/fairey-marine-tenders/">Read More...</a>