It is time for me to pass on the 'bateau' on to a new owner.  Work commitments, blah..de..blah..  But she deserves to be used and should never be neglected.
She is a 'little behind in her maintenance' with her decks needing repainting.  But she is still a solid original example in good working order. She comes with everything that is 'hers' and required for the cruises I have done. Cover, sails, ropes, hand-held 'ships' radio (as required in the French Canals), reliable engine, solar panel etc. The trailer is solid and works well as a cradle in the yard and for local movements. She has a 'Waveline' tender but the rollicks need re-attaching. The fire extinguishers are out of date.
Association members can see her full history in the registry.
Value is a funny thing as it has never been about the money.  I am asking £4,000.  Because that is what I think is a cheap but fair price.
I am expecting the new owner will become a valuable contributor to this association and Mary's ongoing history.
If you are interested please contact me, Alistair:
Telephone: [zero, 7578] 955 102
Email: fairey.mary[at]dog-cafe.co.uk (replace [at] with @)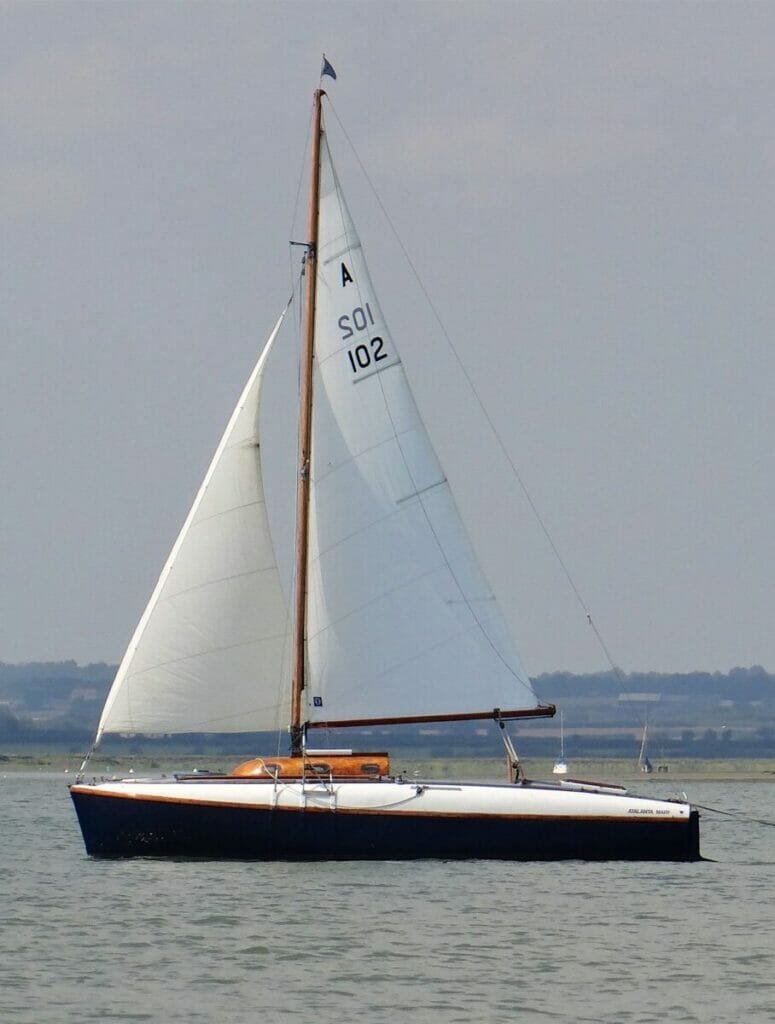 ---
Blog Posts
(List only – log in to read the posts, better still join the AOA)



Repairs to top sides

2022 December

-
Comments:



Out of hibernation

2021 August

-
Comments:



November 2019 Classic Boat – Atalanta as an 'Affordable Classic'

2019 October

-
Comments:



Atalanta Mary hibernates

2019 January

-
Comments:



2016 Mary on the way home

2017 June

-
Comments:



Suffolk Yacht Harbour-Mary maintenance

2016 October

-
Comments:



09 Sep – Hyeres

2016 September

-
Comments:



09 Sep – St Tropez to Le Lavendou

2016 September

-
Comments:



07 Sep – St Tropez

2016 September

-
Comments:



06 Sep – Past Agay to St Tropez

2016 September

-
Comments:



05 Sep – Past Cannes to La Napoule

2016 September

-
Comments:



04 Sep – Antibes

2016 September

-
Comments:



03 Sep – Around Monaco

2016 September

-
Comments:



02 Sep – To Monaco

2016 September

-
Comments:



01 Sep – San Remo

2016 September

-
Comments:



31 Aug – San Lorenzo Al Mare

2016 August

-
Comments:



30 Aug – Alassio

2016 August

-
Comments:



29 Aug – Savona to Loano

2016 August

-
Comments:



28 Aug – Genoa to Savona

2016 August

-
Comments:



26 Aug – Genoa

2016 August

-
Comments:



25 Aug – Portofino

2016 August

-
Comments:



25 Aug – Past Cinque Terre to Portfino

2016 August

-
Comments:



24 Aug – Portovenere

2016 August

-
Comments:



23 Aug – La Grazie

2016 August

-
Comments:



La Spezia

2016 August

-
Comments:



23 Aug – Past Lerici, Viareggio and Carrera

2016 August

-
Comments:



23 Aug – Leaving the Arno

2016 August

-
Comments:



22 Aug – Arnovecchio

2016 August

-
Comments:



21 Aug – Florence, before we get afloat

2016 August

-
Comments:



Leaving Pisa to La Grazie (near La Spezia)

2016 August

-
Comments:



Atalanta Mary Comes Home (2016)

2016 August

-
Comments:



Bringing Mary Home-Non abbastanza vacanze

2016 June

-
Comments:



Boat cover for Mary

2016 June

-
Comments:



2016 Atalanta Mary's new cover

2016 June

-
Comments:



Arnoveccio in Pisa

2016 January

-
Comments:



2015 Mary to Pisa

2015 September

-
Comments:



Mary 2015

2015 September

-
Comments:



2015 Mary check in Bosa

2015 April

-
Comments:



Atalanta Mary 2014

2014 October

-
Comments:



bubble repair

2014 April

-
Comments:



2014 Winter check on A102 in Bosa

2014 January

-
Comments:



2013 Atalanta Mary lays up in Bosa

2013 November

-
Comments:



2013 Atalanta Mary from above

2013 September

-
Comments:



2013 Atalanta Mary Alghero to Bosa, Sardinia

2013 September

-
Comments:



2013 Atlanta Mary from Corsica to Isola Rossa, Sardinia

2013 September

-
Comments:



2024 A103 – Sardinia

2013 September

-
Comments:



2013 A102 – Corsica!

2013 August

-
Comments:



2013 A102 – Out into the Mediterranean

2013 August

-
Comments:



2013 A102 – Hatch Repairs

2013 July

-
Comments:



2013 A102 – Lyon and The Rhone

2013 June

-
Comments:



2013 A102 – Into the Rhone Valley & R.Saone

2013 June

-
Comments:



2013 A102 – The Marne Valley

2013 June

-
Comments:



2013 A102 – East from Paris on the R.Marne

2013 May

-
Comments:



2013 A102 Mary in Paris

2013 May

-
Comments:



2013 A102 Mary To Paris

2013 April

-
Comments:



2013 Atalanta Mary ready on the South Coast

2013 January

-
Comments:



European holiday

2012 December

-
Comments:



2012 A102 Atalanta Mary travels to Chichester

2012 November

-
Comments:



A102 Atalanta Mary is for sale SOLD

2012 February

-
Comments:



Beta Diesel engine

2000 January

-
Comments:



Restoration – Cockpit, Engine, Rig

1998 May

-
Comments:



Coupe Bernard Trophy 1992 – Twin Rudders

1992 January

-
Comments:



In the Navy

1979 January

-
Comments: